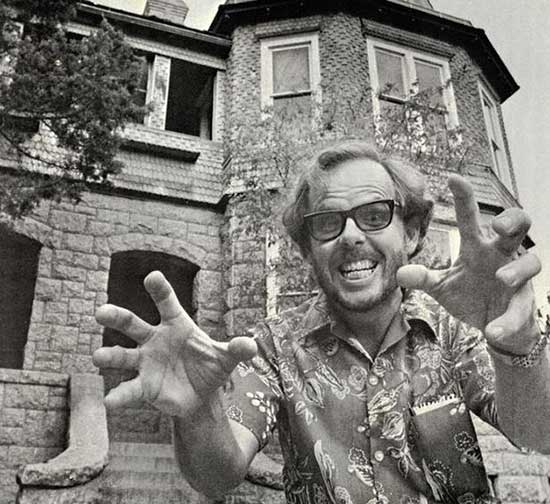 Texas premiere of documentary about Robert Burns—the genius who created the look of the original TEXAS CHAIN SAW MASSACRE—and his obsession with cult actor Rondo Hatton
The Houston Horror Film Festival (HoustonHorrorFilmFest.com), founded by Troy Escamilla, an award-winning independent filmmaker and horror fanatic, recognizes and showcases true independent horror in the Bayou City.
The goal is to bring the best in independent horror to Bayou City and cultivate an objective festival that truly focuses on the films selected and filmmakers who attend. The Houston Horror Film Festival seeks horror films by filmmakers who embrace and have a passion for the genre that is apparent in their films, despite budget constraints.
RONDO AND BOB
Filmmaker Joe O'Connell's new documentary, RONDO AND BOB will open the Festival on Friday, June 25 at 4 p.m.
"We are thrilled to kick off the 2021 Houston Horror Film Festival with a screening of the compelling documentary feature RONDO AND BOB.  Horror fans will surely relate to and be charmed by this Texas-made film, which showcases Bob as a huge horror fan who has turned his admiration and fandom for Rondo Hatton into the primary inspiration for his work on classic films such as THE TEXAS CHAIN SAW MASSACRE  and THE HILLS HAVE EYES.  Additionally, fans will be treated to appearances from many recognized and iconic faces in horror," said Troy Escamilla, Founder/Film Festival Director.
"The Houston Horror Film Festival is the perfect place to screen our telling of two icons of horror," said O'Connell. "It's a great honor to be chosen to open the fest. It shows our hard work on RONDO AND BOB paying off."
RONDO AND BOB focuses on Robert A. Burns, a horror film legend for creating the look of seminal films THE TEXAS CHAIN SAW MASSACRE, THE HILLS HAVE EYES, RE-ANIMATOR and THE HOWLING. Burns concocted iconic Leatherface masks and scoured the countryside for bones that filled the low-budget CHAIN SAW set.
Burns was obsessed with actor Rondo Hatton (aka the Creeper), an average man whose face was transformed into a distorted mask by acromegaly because of his deformity found his way into films in the 1930s and '40s.
Rondo and Bob trailer #2 from Joe O'Connell on Vimeo.
The film reveals both men's lives/careers through recreations, archival footage and interviews to reveal Burns as a normal-looking man who was brimming with creative weirdness and Hatton as a regular guy cursed with a hideous look. Burns thought himself incapable of love while Hatton found his soulmate.
SPARK OF THE DOCUMENTARY
Burns' longtime friend Gary Kent, who plays Rondo's doctor in the reenactments in the RONDO AND BOB, introduced then film journalist Joe O'Connell to Burns in 2000. Burns gave O'Connell a copy of his unproduced screenplay RONDO AND MAE. The documentary which includes reenactment segments follows Burns as he searches for Rondo's widow, Mae Hatton, and learns his idol's true story.
"The visual genius Bob Burns brought to horror films is enough to rate a documentary, but I was drawn in by his obsession with Rondo Hatton. I was compelled to tell both men's very human stories," said O'Connell.
Kent is the subject of O'Connell's first documentary DANGER GOD about Kent's B-movie/stuntman career. Kent was partial inspiration for Brad Pitt's stuntman character in the film, ONCE UPON A TIME IN HOLLYWOOD.
About filmmaker, Joe O'Connell
O'Connell is a former film industry columnist for The Dallas Morning News, The Austin Chronicle,  and Austin American-Statesman. He's writing a book about the Ross Sisters, three contortionists from West Texas who found fleeting fame in the 1940s.
DETAILS FOR RONDO AND BOB:
When: 4 p.m., Friday, June 25
Where: Houston Horror Film Festival,
Houston Marriott South at Hobby Airport, 9100 Gulf Freeway, Houston, TX 77017
Admission: $ 15-day pass available at HoustonHorrorFilmFest.com
(Limited COVID seating)
Links: RondoAndBob.com
Houston Horror Film Festival schedule link
www.houstonhorrorfilmfest.com/2021-film-selection–schedule.html
In-Person from Film: Film director/producer, Joe O'Connell and actor/stuntman, Gary Kent