Alex Pardee's Monster Season continues in July's Loot Fright crate!
Artist Alex Pardee continues his reign of horror figure terror with the newest Monster Season creation only available in Loot Crate's Loot Fright crate "Insides Out." Continuing this enormously popular series, which previously included Mr. Kramp and Billy Hare: The Beaster Bunny, the latest sculpt by Alex Pardee will have you howling at the moon. The newest Alex Pardee Monster Season creature shares Loot Fright space with exclusive and officially licensed collectibles and gear from Get Out, Alien, The Fly and more.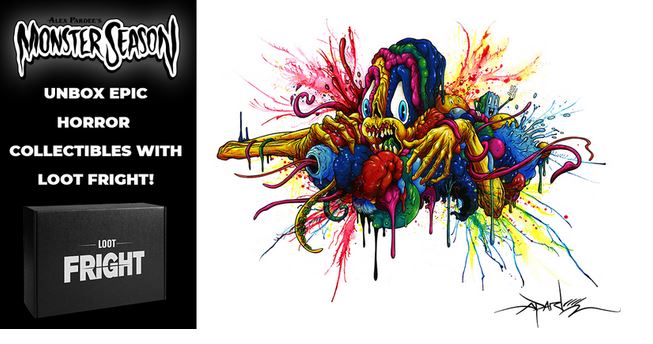 The "Insides Out" crate features Oscar & the Lycanthrope, the newest addition to the Monster Season series. But who is Oscar? Artist Alex Pardee has the story:
There's always been something off about Oscar. The adults in town didn't really notice, because I guess as an adult you see so much weirdness throughout your life that you eventually learn to look the other way when something seems off. But not us, at least not when we were kids. I was the first to notice it. I was in Oscar's Meat-Mall with my dad. He was there picking up his weekly lump of pork-shoulder so he could make us his famous tacos for taco-night. Dad got a phone call right when Oscar walked in the back to chop the meat, so he wasn't paying attention. But I heard it. And I saw it. While hacking up the pork, Oscar first started grunting, then gagging. Then he was talking to himself. I heard it clearly. He said, "Not now, please." And then gagged some more.
I never told my Dad about that.
A few weeks later, I was riding my bike home after game night at Tommy's. It was late, but it wasn't too dark because of the full moon. I always ride past Oscar's shop on my way home, through the alley behind it, and this time was no different. Except, when I got into the alley, I saw Oscar outside, gagging again. I stopped to ask him if he was ok and he shooed me away frantically. But then I saw his mouth stretch and it looked like it was painful. I tried to help. But then, after some of Oscar's insides got pushed out of his mouth and plopped on the floor, a creature emerged from Oscar's throat, and HOWLED. I rode away as quickly as I could. I tried to tell my Dad but he said, "Some people are just eccentric."
The next morning the newspaper said that two bodies were found with their faces bitten off. I never told anyone else what I saw.
There are even more exclusive items and collectibles from Get Out as well as Alien and The Fly waiting for you to unbox. There's also a Premium Add-On item available to order: a Lovecraft Series: Herbert West–Reanimator Screen Printed Poster!
The July Loot Fright crate must be ordered by July 15 at 9:00 pm PST. Loot Fright crates start at $34.99 plus shipping and handling. Supplies are limited and will sell out fast!
Scream to the newest Monster Season figure and subscribe to the Loot Fright crate!
http://loot.cr/LootFright
Follow Alex on Twitter!
 https://twitter.com/alexpardee