Becko Drops Defiant Music Video
For Fiery New Single
"The Phoenix"
Out Now Via FiXT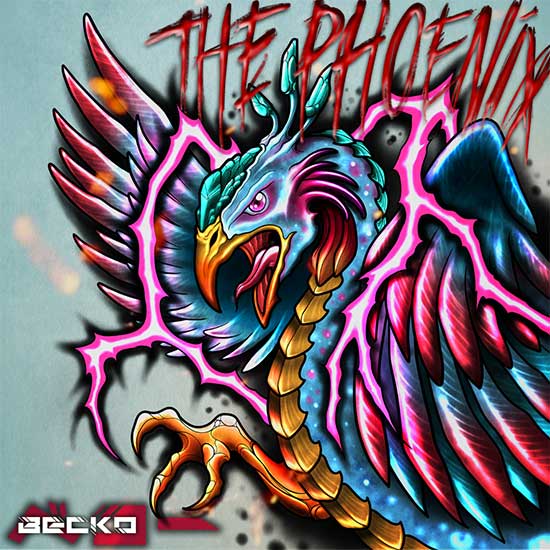 Rising like a sonic inferno, the official music video for Becko's fiery new track "The Phoenix" pulls listeners into the artist's dynamic rise from the ashes and subsequent triumph through a blend of fiery imagery over a graffiti-laden background. Becko's genre-defying "The Phoenix" is a stunning creation that balances brutal trap sections and screamed vocals against an intimate chorus section with open-hearted, melodic sensibilities.
"The Phoenix is a heavy trap song with a melodic taste and epic lyrics with a strong meaning. The song's meaning is to don't give up. Scars are just a way to be a better person with the example of the legend of the phoenix." – Becko
"The Phoenix" offers an exhilarating high-contrast listening experience, and it's available now on all platforms from independent electronic rock label FiXT.
As a rising trap-metal artist Becko has been featured on Metal Insider,  Alternative Press, Dark Beauty Mag, Bring The Noise, and Nerds And Beyond, along with official playlist features from Spotify and Yandex, and radio support from Sirius Octane.
Purchase / Stream "The Phoenix":
fanlink.to/tPhnx
Rising from the ashes of post hardcore band Hopes Die Last, Italian multi-genre producer, musician, and vocalist Marco Calanca created Becko as a solo project, uniting influences of EDM, Hip-Hop, Industrial, and Emo-Rock.
With previous releases under his belt with labels ranging from Warner Italy and Universal Italy, to Monstercat, Lowly Palace, and Smash the House since 2014, Becko found a new home in early 2020, signing a multi-album deal with the independent, artist-owned/operated USA-based electronic-rock label FiXT, founded by genre-pioneering artist & producer Klayton (Celldweller, Circle of Dust).
In 2020, Becko released the full-length album INNER SELF, as a triumphant fusion of trap & metal. In early 2021 Becko released "Otaku Pride" with plans for more singles throughout the year.