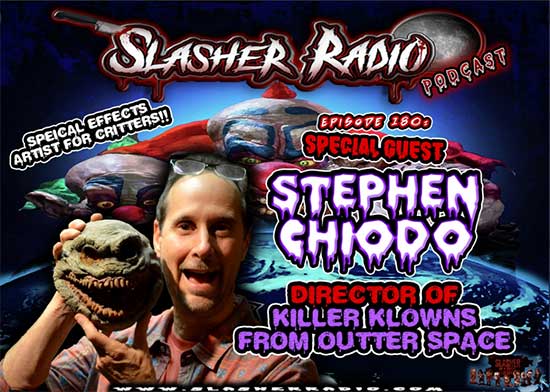 Hope everyone is doing well as we seemingly nearing the end of this pandemic.
Please see below links to our interview with Stephen Chiodo, Director of Killer Klowns From Outer Space and Special Effects Artist for the Critters franchise, Ernest Scared Stupid and more, which dropped 5/5/21. Highlighted points of discussion that we thought you would find note worthy:
-Chiodo Brothers influences include The Looney Toons.
-Chiodo Brothers turned down slasher film opportunities due to violence of women.
-Chiodo Brothers were offered Universal Monsters project, details their pitch for the film.
-Details reasons for Killer Klowns From Outer Space Remake hold up and past offers/complications.
-Thoughts on SYFY's Critters Attack! and why The Chiodo Brothers were absent from the project.
-"I'm going to put an end to a myth" – Stephen Chiodo comments on decades-long rumor of Killer Klowns mold used for 'Ernest Scared Stupid' creatures.
Links to the episode:
Spotify:
iTunes: