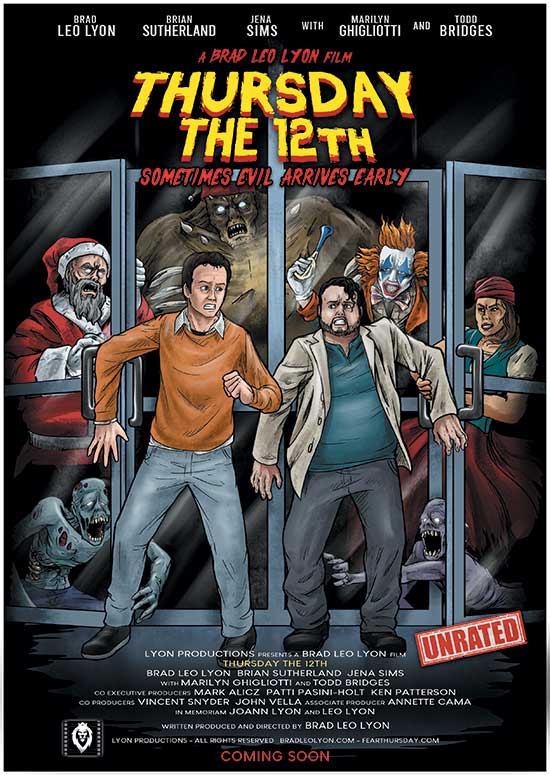 New trailer for the movie "Thursday the 12th" starring such familiar faces as Todd Bridges (Different Strokes), Jena Sims (Kill the Messenger), Brian Sutherland (Z Nation), and Marilyn Ghigliotti (Clerks) is releasing today (Sunday, April 18th) at 6:00 PM EST.
Thursday the 12th is a horror comedy in the realm of Evil Dead meets Mallrats with a touch of Tucker and Dale Versus Evil.
Synopsis: Life was already hard for Seth Franco and James Rogen, two failed film school grads still working the same jobs they had in high school even though they're closing in on their 30's. However, things are about to get a lot worse for the pair after upsetting a Gypsy the week of Friday the 13th.
The tour was originally slated for April of 2020 but was postponed due to the pandemic. We now look forward to announcing all of the new dates and venues at the end of this month.
This wasn't the only delay the film experienced either. The film originally began principal photography roughly 5 years ago, but production was shut down when my mother, JoAnn Lyon passed away during filming and was buried on Christmas Eve of that year. Several months later, as we began to prepare to get back to production, Leo Lyon, my father, also passed away.
Both were very active in film, as JoAnn Lyon had served as a production supervisor and Leo Lyon a unit production manager numerous times and had both been producers on several film.  On a related topic, Timothy Quill who you may know as the Blacksmith from Evil Dead: Army of Darkness as well as his numerous appearances in Spiderman films, also died this past week on April 14th. He portrayed "Blake Smith" in Thursday the 12th, though his scenes were subsequently cut from the film.