Written and Directed by DAVID CHARBONIER and JUSTIN POWELL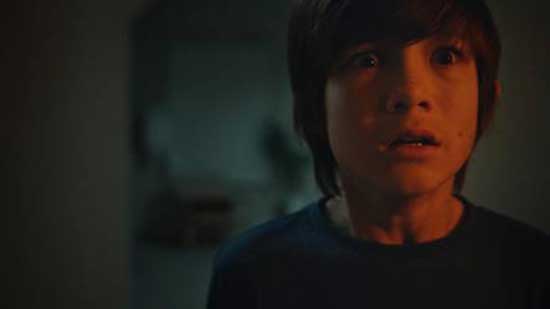 Produced by RYAN SCARINGE, MEGHAN WEINSTEIN and CARTER ARMSTRONG
Executive Produced by JILBERT DANIEL, DAVID CHARBONIER and JUSTIN POWELL
Starring EZRA DEWEY, ROB BROWNSTEIN, TEVY POE, JOHN ERICKSON, DONALD PITTS, JILBERT DANIEL, OMARYUS LUCKETT, COLLIN JOE and ISAIAH MANSFIELD  
OPENING IN THEATERS & AVAILABLE ON DIGITAL AND ON DEMAND
ON FRIDAY, MAY 14th 
The story follows a mute twelve-year-old, Dylan Jacobs, as he discovers a mysterious book of spells inside his new apartment. Grieving the loss of his mother, and feeling isolated from everyone except for his father, Dylan performs a ritual that promises to deliver his heart's desire: to have a voice. But he soon discovers that every gift has a toll when a sinister djinn arrives to collect his soul. Now trapped in his new home with nowhere to hide, Dylan must find a way to survive until the stroke of midnight or pay the ultimate price.
David Charbonier and Justin Powell are life-long friends and two up and coming directors in the horror space.
They recently completed their feature film debut, THE BOY BEHIND THE DOOR, which had its world premiere at the 2020 edition of Fantastic Fest and also screened at AFI Fest, during which it was able to garner its current score of 100% on Rotten Tomatoes.
The Hollywood Reporter called THE BOY BEHIND THE DOOR "a delicate and memorably successful balancing act that effectively contextualizes some deliberately challenging material" while Bloody Disgusting called it "unrelentingly intense" and "shockingly dark," noting that "Charbonier and Powell created one impressively ballsy debut."
Quote from Directors: We made this film as a testament to the spirit of independent filmmaking. Our story is framed in horror, but we hope that its themes of strength and survival will encourage children and adults alike to love themselves despite their perceived shortcomings.
82 Minutes | Horror