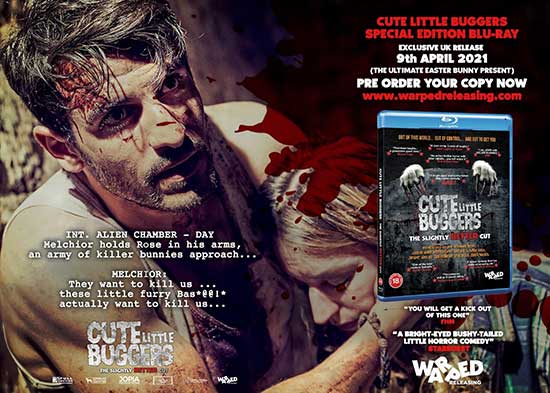 Warped Releasing is a brand new worldwide distributor specialising in releasing GENRE movies across all distribution platforms including: Limited Theatrical, DVD & Blu-Ray, VOD, SVOD, and other streaming services.
We are a team of friendly, hardworking filmmakers that understand the pain, sweat, blood and tears that go into making a movie and we love movies as much as you do. So we've made it our MISSION to get independent genre movies seen all around the world.
Making movies is about team work and so is distribution. Together we can make great things happen. WARPED RELEASING first release will be the crazy B-MOVIE 'Cute Little Buggers – The Slightly Better Cut.'
"When hostile aliens crash land on local farmland the villagers at the summer ball get suspicious when young women start going missing. The villagers soon band together around our hero Melchoir to fend off the invaders and bring back peace to the sleepy English countryside." You will be able to own a special edition blu-ray filled to the brim with extra content and if you're looking to stream the movie, we also have you covered. In the coming weeks the movie will be available on all the top steaming sites, only from WARPED RELEASING.
Company Director Tony Jopia says "'We hope to make a difference to other filmmakers out there who work so hard to produce their films and then see nothing from returns, of course we know that not all films make a fortune but we want to give the films the best chance possible to bring something back to their makers, at least try to get it our their to the public."
Company Director Stu Jopia says "We can't wait to get the ball rolling and for the world to see what amazing genre titles we'll be releasing over the next few months. If you're a genre fan then you're going to be one happy fan." So be sure to follow all our social media pages for updates on all our releases.