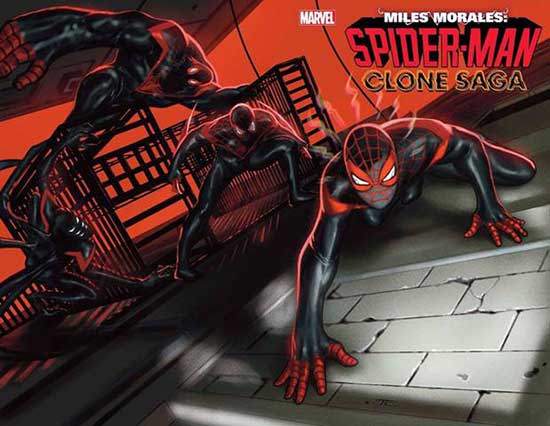 On April 28th, Miles Morales is trapped in a Clone Saga of his own! The highly-anticipated new story arc in Saladin Ahmed's run on the title will kick off in MILES MORALES: SPIDER-MAN #25. Ahmed will team up with Marvel's Stormbreaker Carmen Carnero to bring fans a new take on one of the most talked about comic book storylines of the nineties.
This new storyline promises to mess up Miles' life even more than Peter Parker's Clone Saga messed up his! The young hero's world will be turned upside down when he comes face-to-face with three distinct Miles clones, each expertly designed by Carnero. The result of the Assessor's sinister meddling, these clone creations will spread havoc throughout Brooklyn and Miles is the only hero who can shut them down. Get your first look at this all-new trio of deadly doppelgangers in the MILES MORALES "CLONE SAGA" TRAILER, featuring never-before-seen artwork.
"Part of the magic of telling Marvel stories is not just the sense that these characters occupy the same universe, but they exist across generations," Ahmed told IGN in a recent interview. "Putting a newer superstar character through some of the same paces a super hero legend went through gives us all sorts of insight into what makes Miles 'Miles' as well as what makes him Spider-Man."
The fight of Miles Morales' young super hero career has begun! Be there when MILES MORALES: SPIDER-MAN #25 hits stands on April 28th.