CAV and One 7 Movies present REDEMPTIO –
The world calls them convicts, inmates or prisoners, but they are still human beings.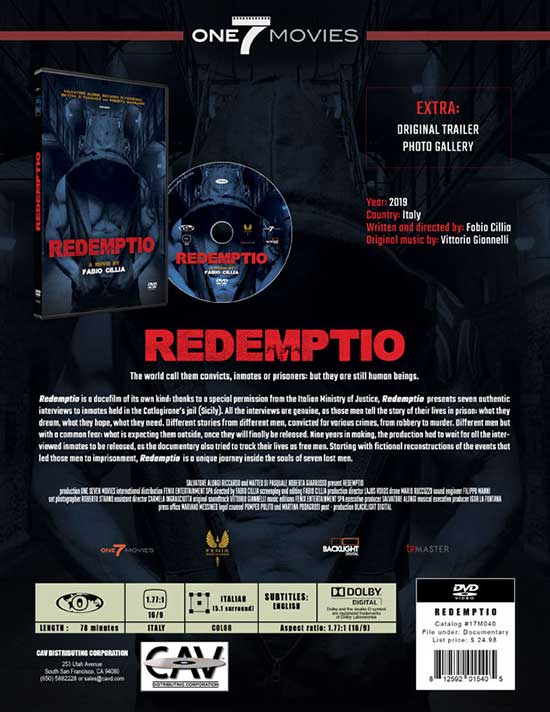 Redemptio
1 DVD disc
Label:  1 Seven Movies
Preorder:  4/27/21    Release: 5/25/21
MSRP:  $24.98
UPC:  812592015405
Catalogue #:  17M040
Genre:  Documentary
Color
78 minutes in Italian with English subtitles
MPAA Rating:  Not Rated
Region code: All
Widescreen Anamorphic 1.78:1
Dolby Digital 5.1
Production year:  2019 in Italy
Director:  Fabio Cillia
REDEMPTIO is a unique documentary, thanks to special permission from the Italian Ministry of Justice.  REDEMPTIO presents seven authentic interviews with inmates held in the Catlagirone prison, in Sicily. All the interviews are genuine, as the prisoners tell the story of their lives in prison: what they dream, what they hope, what they need. Different stories from different men, convicted for various crimes, from robbery to murder. Different men, but with a common fear – what is awaiting them outside, once they are finally released?
Special Features:
Original trailer
Photo gallery