Most slot players prefer colourful and exciting games, like Buffalo free slots. But some prefer horror or thriller genres. Why? The answer to this question is what you are about to find out.
Overly scary slot games are not the best to play. They can frighten you, and there is also a possibility of having bad dreams if you are a child. Some people dare to start playing a horror game and quit when creepier scenes increase. Other people will not bother playing a horror slot game at all. There are good options for those of you who can have an adrenaline rush from playing a scary slot game.
Top 6 Scariest Horror Slot Games Online
As promised above, there are a few frightening games you can play online. In these, you will encounter things like ghosts, zombies, human skeletons or skulls, vampires, and so on. If you can entertain such scenes, then fine – here are six options for you to try.
The Day of the Dead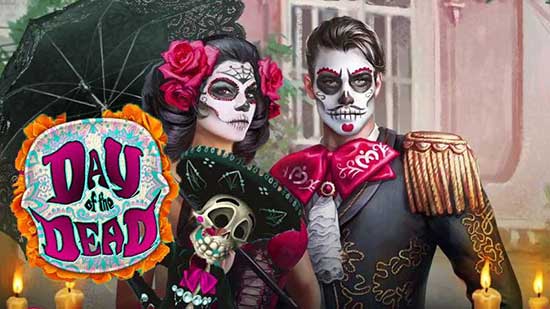 The name itself is scary. While this IGT slot shares a name with a movie made in 1985, featuring George A. Romero, its theme is different. It focuses on El Dia De Muertos, a Spanish holiday occurring every year in Mexico and other places. It is usually a colourful festival liked by many locals. In this game, though, the festival is graced by human skeletons and skulls. The sight of a single human skeleton can cause considerable fear. Now imagine yourself encountering plenty of dancing skeletons. Most people may panic. However, the lovely music, colourful symbols, plenty of food, and candles could help elevate your mood. The unique features in this game are:
Wilds
Big multipliers
Up to 96 pay-lines
A total of 240 free spins
The Blood Suckers
This video slot game is made by NetEnt, the best producer of horror and non-horror video slot games. This terrifying slot is designed to entertain horror enthusiasts and give them a chance to make some bucks. The Blood Suckers generally has a frightening mood, and the central theme contains all kinds of blood-sucking vampires. A modern classic, the Blood Sucker broadly meets the needs of those interested in the vampire theme. Special features are:
An aggressive bonus game letting players kill the vampires to receive cash rewards.
Wild symbols.
A free spins round that multiplies your winnings by 3.
Beautiful Victorian-style graphic presentation of scary characters.
NetEnt will soon release Blood Sucker II to keep the fans of Blood Suckers entertained.
Lost Vegas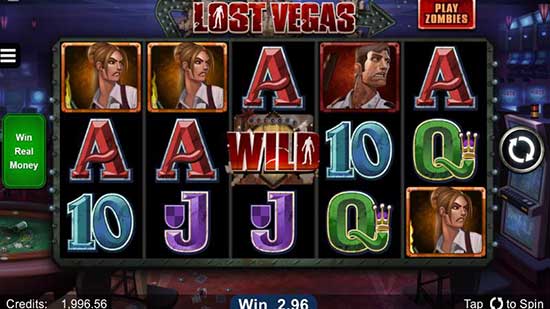 If you want to steer away from vampires, try out zombies. You can find them in the Lost Vegas slot game, a professionally animated living dead game. You can decide to assume the role of a brain-eating zombie or become a plucky survivor. This is a dual-mode slot game powered by Microgaming. This zombie game can be comical sometimes, especially when the Zombie Elvis Impersonator appears and you don't know who he is. Is he the impersonator or the real Elvis? The only way to discover it is to play this horror game. If you don't think Lost Vegas is alarming enough, choose the 2012 Zombies from NetEnt. The features of the Lost Vegas slot are:
Blackout Bonus.
Zombie Fist of Cash.
A free spins round that emerges when you land three or more scatters.
Lucky Count
This slot game may excite someone who would prefer a mixed-theme game. It has a happy side and a frightening side. Aristocrat produces the Lucky Count game. It has more cheerful and light-hearted themes than the Blood Suckers or The Day of the Dead. It's a graphical game with colourful cartoons and frightening things like flying bats, haunted castles, and blood goblets. The colourful cartoon-like creatures can help reduce the fear of the vampire-like creatures. The main features are:
Profitable vampire wilds that offer 32 multipliers.
40 free spins during the bonus round.
A Nightmare on Elm Street
Do you know the most feared character in the horror movies that were produced in the 1980s? It is Freddie Krueger. Made by Random Logic, A Nightmare on Elm Street slot game boasts clips from the first movies featuring this character. It is one of the top slot machine games inspired by the horror movie made in 1984. If you end up wanting more from those eras, choose Microgaming's Halloween slot featuring John Carpenter. A Nightmare on Elm Street includes several exciting symbols that you have already encountered in classic horror movies.
Ghoul's Gold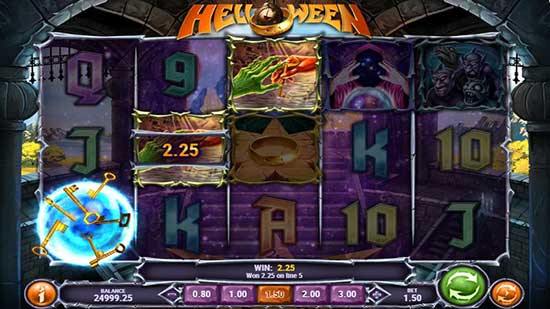 This game suits those who have no phobia of meeting ghosts. While in this case, ghosts will be in a slot game, just viewing their actions is enough to frighten you. Produced by Bestsoft, one of the most renowned game developers, Ghouls' Gold is a 3-reels game with everything a player would want to have. You will face ghouls who have taken refuge in haunted houses. It has these features:
A bonus round.
Many wild symbols.
A progressive jackpot, giving bigger chances to win.
A hunted house symbol, the biggest-paying symbol.
10,000x your bet for each line if you can gather five matching symbols at the same time.
Free spins.
What Do People Enjoy in Horror Slot Games?
Horror video slot games and movies are frightening, and those who don't enjoy them may wonder what's fascinating about it. Why would anyone be happy to see zombies, ghosts, vampires, skeletons, skulls, and related things? Although ancient people were not obsessed with horror and scary things, these things were part of their culture. They wrote stories of vampires and zombies, especially those who lived between the 18th and 19th centuries.
Horror movies became popularised in the 1980s. In current times, the filming and gambling industries are actively releasing horror-based products. That's because the modern generations are so obsessed with the theme that they don't hesitate to show it. So, what exactly do the people who play horror video slots like? Expert psychologists think that these people like the thrill of doing so while knowing that everything is not real.
They realise that skeletons or whatever weird things in a game are not real and cannot attack anyone in real life. Having this knowledge helps them play and feel happy about it. If you don't like to play video games with scary scenes, you have other options. But, you should know that millions of people play them despite the fear. You can as well do it, starting with the choices that are not too scary. The types that have a combination of scary and happy content can be great, to begin with.
Conclusion
It should not surprise you that the online casino industry is currently making a lot of cash from those who love horror slot machines. Apart from the few slots discussed above, there are several others to pick from. Some, like A Nightmare on Elm Street, are extremely scary. Others have features that make them less frightening, such as colourful cartoons. As you get accustomed to playing these, you will slowly see the positive aspect of doing it.
Like other games, scary horror slot games can increase your mental focus, creativity, and sharpness. They still require you to think fast to solve a problem or get away from approaching danger. Thus, other than being scary, these slots can provide the much-needed thrill during dull times and boost your imagination.