NUEVO RICO will World Premiere at SXSW 2021 –
Animated Shorts Competition
Director Kristian Mercado Figueroa and
Executive Producer/Voice Actor Jackie Cruz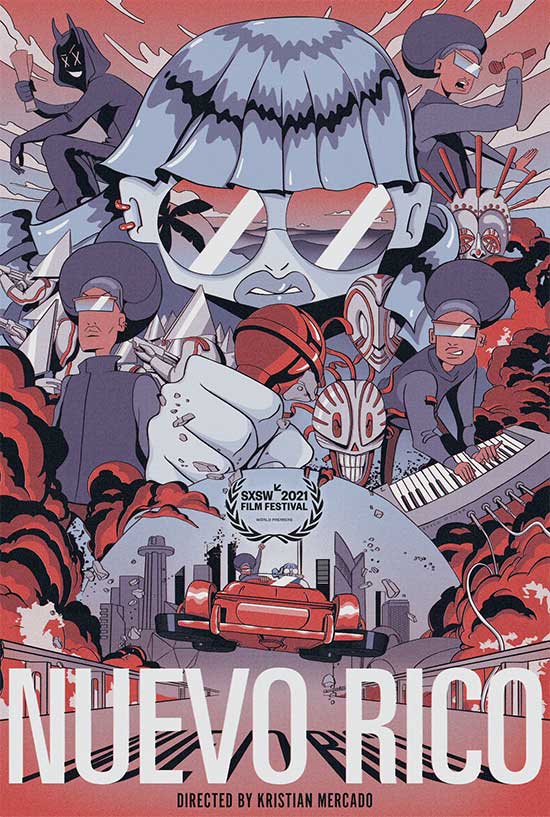 A brother and sister stumble upon a celestial secret that changes their lives forever and propels them into Reggaetón stardom, but they soon discover that their newfound fame comes at a deep price.
Mercado Figueroa's distinct voice addresses issues of identity, family, and systemic oppression across race and class. His work is celebrated for it's poetic portrayal of working class struggles, highlighting the gaps between love and loss.
Director: Kristian Mercado Figueroa
Script: Juan Arroyo, Kristian Mercado Figueroa
Executive Producers: Jackie Cruz, Maitreya Yasuda, Mike Anderson,
Jeff Hood, Kristian Mercado Figueroa
Producers: Debora Perez, Kate Chamuris, Angel Manuel Soto
Supervising Executive Producer: Angel Manuel Soto
CreativeDirector: Raymo Ventura
StoryboardArtist: Angélica Agélviz
CharacterDesign: Angélica Agélviz
Running Time: 16 minutes
Section: Animated Shorts Competition