ATLANTIS
*UKRAINE'S OFFICIAL OSCAR® SELECTION FOR BEST INTERNATIONAL FEATURE FILM*
DIRECTED BY
Valentyn Vasyanovych
ATLANTIS will open exclusively at Metrograph on Friday, January 22, 2021
and continue to rollout in select theaters nationwide.
*WINNER – VENICE HORIZONS – BEST FEATURE – 2019 VENICE FILM FESTIVAL*
*WINNER – BEST FEATURE AND BEST DIRECTOR – 2020 UKRANIAN FILM CRITICS AWARD*
*OFFICIAL SELECTION – NEW DIRECTORS/NEW FILMS 2020*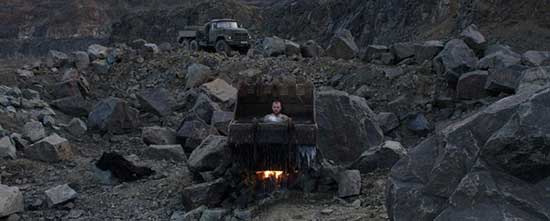 Filmmaker Valentyn Vasyanovych's latest film and cinematic masterpiece,
ATLANTIS
, takes the viewer on a visually gorgeous and emotionally turbulent journey into the close future. In a desolate post-war Ukraine, a former soldier, Sergiy, delivers water, a now scarce resource, around the country. By volunteering his time to recover the dead bodies of his fellow soldiers, Sergiy is able to heal the wounds of war in both his country and himself. During an impressive festival tour, the film took home the prize of 'Best Feature' from Venice Horizons at Venice International Film Festival
and has now been selected as Ukraine's Official Oscar
®
entry for Best International Feature Film. Grasshopper Films will open
ATLANTIS
exclusively at Metrograph on Friday, January 22.
SYNOPSIS
–
Eastern Ukraine, 2025. A desert unsuitable for human habitation. Water is a dear commodity brought by trucks. A Wall is being build-up on the border. Sergiy, a former soldier, is having trouble adapting to his new reality. He meets Katya while on the Black Tulip mission dedicated to exhuming war corpses. Together, they try to return to some sort of normal life in which they are also allowed to fall in love again.