Dark Sky Films proudly announces the February 5th release of psychological thriller REUNION
TWD'S JULIA ORMOND STARS IN "HAUNTING PIECE OF WORK"
REUNION
In Theaters and VOD/Digital Platforms February 5th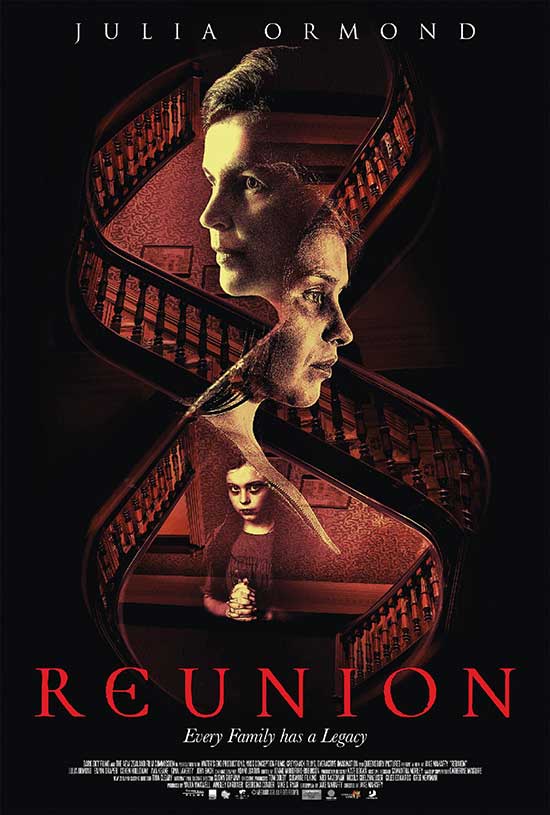 OFFICIAL FILM SYNOPSIS:
A pregnant woman returns to her recently deceased grandparents' old family home to spend time with her estranged mother. What begins as a tenuous reunion slowly turns terrifying.
A psychological thriller that preys upon perception, REUNION sees veteran actress Julia Ormond (TV's The Walking Dead: World Beyond, My Week With Marilyn) deliver a tour-de-force performance of threateningly quiet intensity and features a twisty narrative that will burrow itself into the darkest corners of your mind.
REUNION
Written and Directed by: Jake Mahaffy (Free in Deed)
Produced by: Nadia Maxwell, Ainsley Gardiner, Georgina Conder, Mike S. Ryan
Cast: Julia Ormond (TV's The Walking Dead: World Beyond, My Week With Marilyn), Emma Draper (Wellington Paranormal), Cohen Holloway (Thor: Ragnarok, What We Do In The Shadows), Ava Keane (Daffodils), Gina Laverty (Wellington Paranormal), John Bach (The Lord of the Rings: The Two Towers and The Return of the King)
Country of Origin: New Zealand
Language: English
Genre: Horror, Thriller
Distributor: Dark Sky Films
Run Time: 94:56