First-look image released for PRANO BAILEY-BOND'S
CENSOR
PROTAGONIST PICTURES TO LAUNCH SALES AT SUNDANCE 2021
DIRECTED BY PRANO BAILEY-BOND
SCREENPLAY BY PRANO BAILEY-BOND & ANTHONY FLETCHER
PRODUCED BY HELEN JONES (SILVER SALT FILMS)
EXECUTIVE PRODUCED BY ANDY STARKE (ROOK FILMS), ANT TIMPSON (TIMPSON FILMS) & KIM NEWMAN
STARRING
NIAMH ALGAR
NICHOLAS BURNS, VINCENT FRANKLIN, SOPHIA LA PORTA, ADRIAN SCHILLER & MICHAEL SMILEY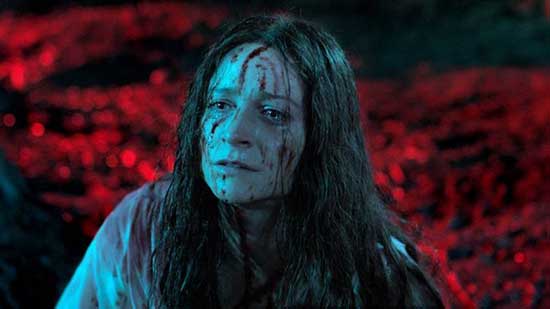 Silver Salt Films is pleased to offer a first-look image from Prano Bailey-Bond's Sundance 2021 Official Selection CENSOR. The Welsh director's debut feature stars multiple-IFTA-winning actor Niamh Algar as the film's lead 'Enid', and will open the Festival's Midnight strand. Protagonist Pictures is handling world sales.
Britain, 1985. When film censor Enid discovers an eerie horror that speaks directly to her sister's mysterious disappearance, she resolves to unravel the puzzle behind the film and its enigmatic director – a quest that will blur the lines between fiction and reality in terrifying ways. Steeped in glorious 1980s aesthetics, CENSOR is a bloody love letter to the VHS 'video nasty' horror classics of the past.
The film stars Niamh Algar (Raised by Wolves, The Virtues, Calm With Horses) alongside Michael Smiley (Jawbone, Kill List), Vincent Franklin (Gentleman Jack, Bodyguard), Nicholas Burns (Ghost Stories, Nathan Barley), Adrian Schiller (Victoria, The Last Kingdom) and Sophia La Porta (Hulu's Four Weddings and a Funeral, Been So Long).
CENSOR was developed by the BFI, Film4, Creative England via the BFI NETWORK and Ffilm Cymru Wales, and was funded by the BFI and Ffilm Cymru Wales, both awarding National Lottery funding, and by Film4, with support from Kodak Motion Picture and Cinelab London.
Silver Salt Films:
www.silversaltfilms.co.uk
Twitter: @SilverSaltFilm
Protagonist Pictures:
Twitter: @protagonistpics