FINAL 4 DAYS!
SHI: HAIKYO PASSES $87,000.00!
$90K STRETCH GOAL: DEBI TUCCI TRADING CARD!
Tucci Troopers!
There's JUST FOUR DAYS LEFT to the campaign & our $85K Stretch Goal, the Jeff Chapman's "GATECRASHER" Edition Trading Card has been unlocked! Thank You!
Jeff's incredible GATECRASHER EDITION is our featured perk. It's extremely limited and probably the most dynamic Shi cover ever, so please get yours today!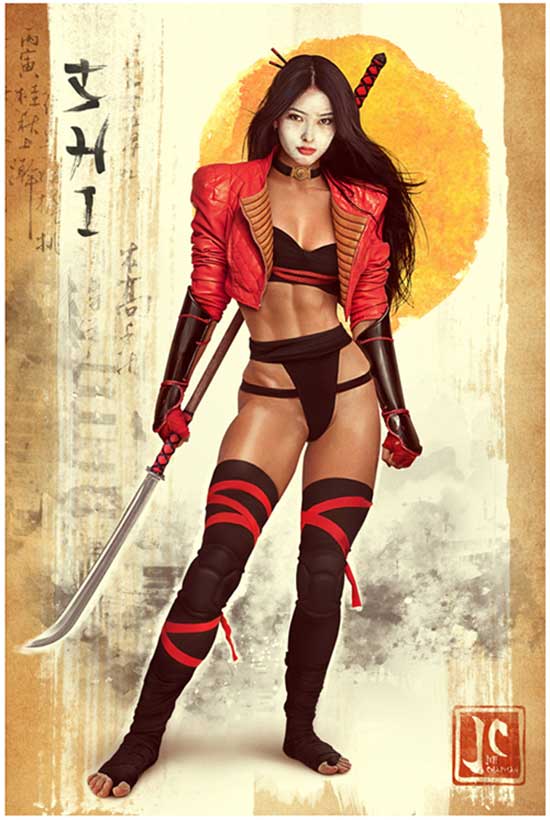 $85K Unlocked Stretch Goal! – Jeff Chapman "GateCrasher" Trading Card
We're now less than $3K away from achieving our $90K Stretch Goal: the DEBI TUCCI "SHI-POSE" TRADING CARD! This card harkens back to 1994 when Debi would pose for me at all hours of the day and night. She was such a trooper then as she is now. The top she's wearing was sewn by my mother, Marie and it was meant for us to have a model/booth babe at the cons. Everyone was telling us WE HAD to have one, but after trying it once at the 1994 Diamond Retailer Summit we realized it wasn't for us. But with this card you can say that Debi was the ORIGINAL SHI COSPLAYER!
You can Pledge for Shi: Haikyo here: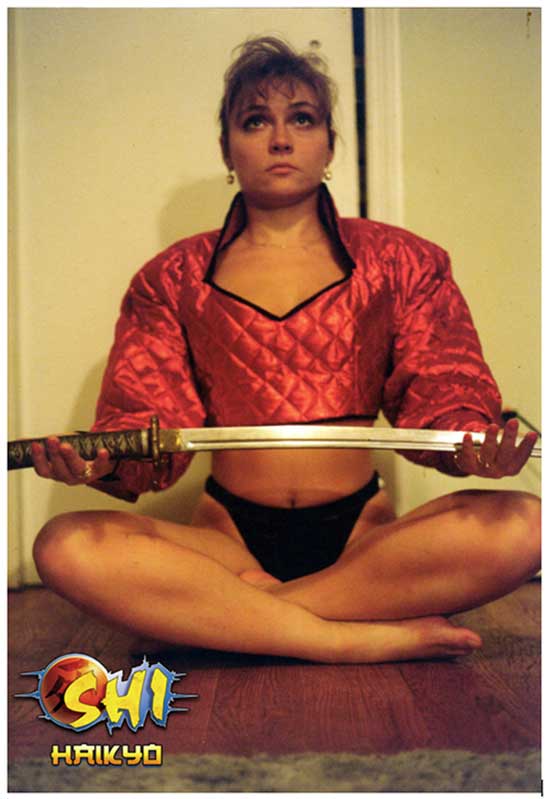 www.indiegogo.com/projects/shi-haikyo#/
All Backers Who Pledge For A Physical Perk Will Receive The Following
STRETCH GOALS FREE:
– $50K: Haikyo Graphic Novel Expanded from 52 to 56 Pages – UNLOCKED!
– $55K: Sakura Moon Gold-Metallic Trading Card  – UNLOCKED!
– $60K: The Shi Kanji Temporary Tattoo – UNLOCKED!
– $65K:  Shi: Haikyo Joanie Brosas Cosplay Cover Trading Card! – UNLOCKED!
– $70K: 5″ Shi: Rough Cut Edition Vinyl Sticker! – UNLOCKED!
– $75K: Shi Shiroi Armor and Masahiro Arashi Mini Print – UNLOCKED!
– $80K: Haikyo Hard Cover Edition Trading Card – UNLOCKED!
– $85K: Shi: Haikyo Gatecrasher Trading Card by Jeff Chapman – UNLOCKED!
 – $90K: Debi Tucci Shi Trading Card – Less than $3K away!
– $95K: Haikyo Graphic Novel Expanded from 56 to 64 Pages!
– $100K: Haikyo Glow-In-The-Dark Trading Card!
– $110K: Shi: Toro Trading Card!
– $125K: Shi: Raijin Gold Metallic Trading Card!