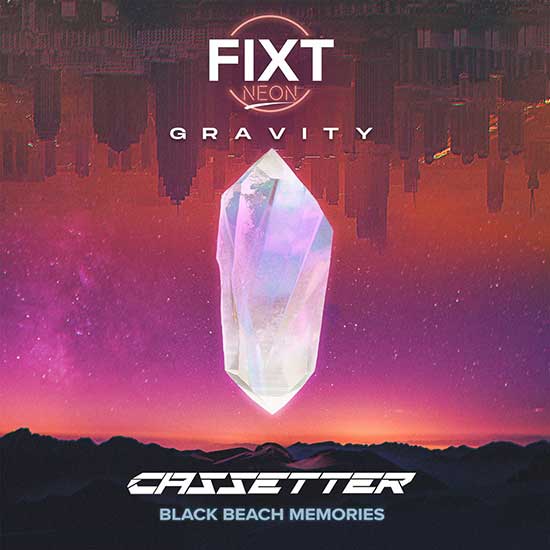 Cassetter's energetic and cyberpunk-minded style turns to the chill side on this soothing and subtly dark new offering, "Black Beach Memories." The song's dream-like atmosphere and wistful melodies evoke a powerful sense of nostalgia with a slight sci-fi edge
"Black Beach Memories" is part of the FiXT Neon: Gravity anthology and is available now on all platforms from independent retro synth label FiXT Neon.
Combining the melodic nostalgia of synthwave with modern production chops and genre influences ranging from electro-house to hip-hop, Cassetter creates music that is simultaneously a throwback to the past and a cutting-edge vision of what's next. The artist crafts every bit of his immersive, retro-futuristic soundscapes from the ground up, and his subtly dark cyberpunk world invites listeners to step inside and go exploring.
Cassetter released his first full-length album, The Fugitive, in 2019. The recording established him as a forward-thinking creator with a unique sonic identity, and an enthusiastic audience put hundreds of thousands of streams on the album within weeks of its release.
The Fugitive also caught the attention of independent synthwave label FiXT Neon, which signed the artist to a deal in late 2019. Kicking off the partnership with a full re-release of The Fugitive and a collection of the creator's early demos and rarities, Cassetter embarked on the next era of his career with brand new music throughout the first half of 2020.
This culminated in the release of a second full-length album in July 2020. Entropy marks the continued evolution of Cassetter's sound, pushing further into unique production and songwriting styles while maintaining a clear connection to the artist's synthwave origins.
With placements in Spotify editorial playlists and a diehard fanbase growing on YouTube, Cassetter continues to expand his audience while helping to redefine retro synth music for a new decade.
Purchase / Stream: "Black Beach Memories"
fanlink.to/bbeachm