Etheria Season 3
11 New Episodes Out 11/25 on Amazon!
As announced by The A.V. Club, ETHERIA SEASON 3, the latest installment of the revolutionary new fantasy anthology series from The Horror Collective of thrilling, scary, and riveting stand-alone episodes directed only by women, is available to stream on Amazon on November 25, 2020 International Day for the Elimination of Violence against Women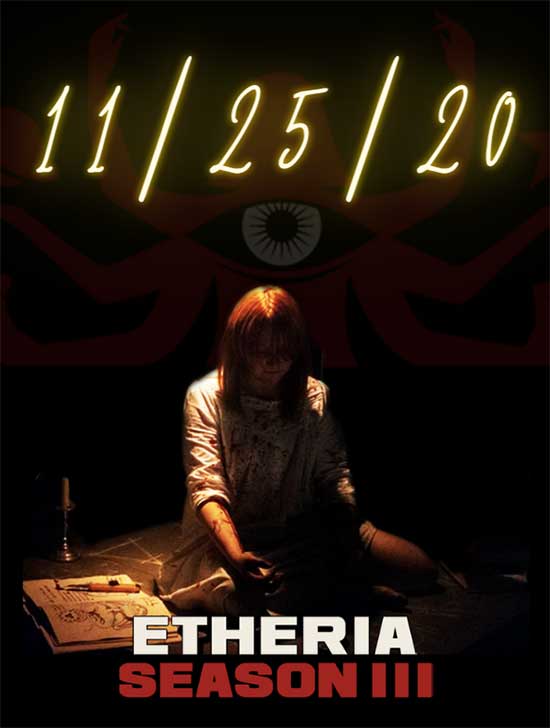 Etheria Season 3 takes viewers to strange new worlds with shorts directed by women giving center stage to medieval warlords and magicians, musical androids, apocalyptic western gunslingers, inescapable time loops, a buddy comedy with a dead body, middle-aged female mercenary assassins, homicidal hairstylists, demented surreal slashers, and spare body parts. Universally praised for their innovative approach to genre, these nine short episodes defy expectations and challenge beliefs about women directors. Featured actors include Cary-Hiroyuki Tagawa (The Man in the High Castle), James Hong (Big Trouble in Little China), Lyndsy Fonseca (Agent Carter), Marta Larralde (Gran Hotel), Gregory Marcel (General Hospital), and Najarra Townsend (Contracted).
The Horror Collective founder Shaked Berenson describes the Etheria series as a way to draw attention to women's issues: "The horror genre has always been used to shine light on social issues, we chose to release the third season of Etheria on the International Day for the Elimination of Violence against Women to remind all of us that violence at home is still a problem, especially during times of pandemic, when victims have less choices of where to go."
Etheria on Amazon: www.amazon.com/gp/video/detail/B08FRTHGNN