2020 Telluride Horror Show to Feature World's Top Genre Authors 
Max Brooks, Paul Tremblay, Creepy Campfire Tales and More Added to Festival Program
Telluride Horror Show has announced its complete lineup, including guest authors and author events for the 2020 "Shelter-in-Place" Edition, scheduled for October 15-18.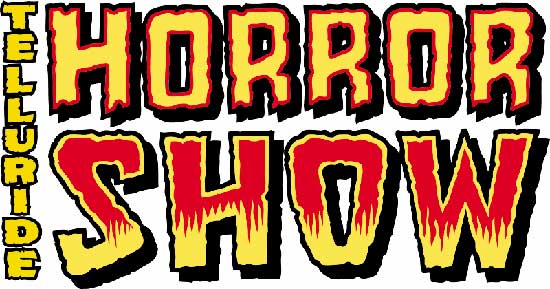 "We're excited to welcome some of the best genre authors of our time," said Festival Director Ted Wilson, whose Telluride Horror Show began showcasing genre authors in 2016 with its inaugural "Creepy Campfire Tales", a free campfire reading which has featured the likes of Pulitzer finalist Kelly Link (Get in Trouble) and genre favorite Joe R. Lansdale (Bubba Ho-tep).
The 2020 program includes a live conversation with Max Brooks and Daniel Krauss, as well as a virtual edition of "Creepy Campfire Tales" featuring Paul Tremblay, Alma Katsu, Emily M. Danforth, and Jeremy Robert Johnson. Both events are free and open to the public.
Live Conversation with Max Brooks & Daniel Kraus
1PM MST, Saturday, October 17, 2020
Max Brooks
GUEST AUTHOR
Max Brooks is the author of World War Z, The Zombie Survival Guide, Minecraft: The Island, and Devolution: A Firsthand Account of the Rainier Sasquatch Massacre. His graphic novels include GI Joe: Hearts and Minds, The Extinction Parade, Germ Warfare: A Graphic History, and The Harlem Hellfighters. Brooks holds dual fellowships at the Atlantic Council's Brent Scowcroft Center for Strategy and Security and the Modern War Institute at West Point.
Daniel Kraus
GUEST AUTHOR
Daniel Kraus is a New York Times bestselling author. With Guillermo del Toro, he co-authored The Shape of Water, based on the same idea the two created for the Oscar-winning film. Also with del Toro, Kraus co-authored Trollhunters, which was adapted into the Emmy-winning Netflix series. Kraus's The Death and Life of Zebulon Finch was named one of Entertainment Weekly's Top 10 Books of the Year, and he has won two Odyssey Awards (for both Rotters and Scowler) and has been a Library Guild selection, YALSA Best Fiction for Young Adults, Bram Stoker finalist, and more. The Living Dead, his newest release, is a posthumous collaboration with legendary filmmaker George A. Romero. Kraus's work has been translated into over 25 languages.
"CREEPY CAMPFIRE TALES"
October 15-18, 2020

FREE & Open to the Public
Take your screen outside, build a campfire or light some candles, and enjoy virtual "Creepy Campfire Tales" from guest authors Emily M. Danforth, Jeremy Robert Johnson, Alma Katsu and Paul Tremblay, filmed exclusively for the Telluride Horror Show "Shelter-in-Place Edition".
Emily M. Danforth
GUEST AUTHOR
Emily M. Danforth's debut (YA) novel, The Miseducation Of Cameron Post, was named to numerous "best book" lists, translated into half-a-dozen languages, and adapted into a Sundance award winning feature film of the same name. Emily's second novel, Plain Bad Heroines – a meta-gothic-sapphic-romp of nested stories and so many killer yellow jackets – will be published by HarperCollins in October 2020.
Jeremy Robert Johnson
GUEST AUTHOR
Jeremy Robert Johnson is the author of the critically acclaimed Entropy in Bloom, In the River, and the breakthrough cult novel Skullcrack City. His latest novel, The Loop, is "unputdownable…fans of The Twilight Zone, The X-Files, and Stranger Things will be especially thrilled" (Publishers Weekly). Jeremy's fiction has been praised by countless publications and authors such as David Wong, Chuck Palahniuk and Jack Ketchum, and has appeared internationally in numerous anthologies and magazines.
Alma Katsu
GUEST AUTHOR
Alma Katsu writes novels that combine history and horror. Her latest are The Deep, a reimagining of the sinking of the Titanic, and The Hunger, a reimagining of the story of the Donner Party with a horror twist. The Hunger made NPR's list of the 100 Best Horror Stories, was nominated for a Stoker and Locus Award for best horror novel, and recently won Spain's Kelvin 505 award for Best Novel (translated). It also won the 2018 Western Heritage Award for Best Novel. Her first spy novel, Red Widow, will be published spring 2021.
Paul Tremblay
GUEST AUTHOR
Paul Tremblay is the award-winning and best-selling author of
The Cabin at the End of the World, Growing Things and Other Stories, A Head Full of Ghosts, Disappearance at Devil's Rock,
and
The Little Sleep
. Stephen King found Paul's new novel,
Survivor Song
, "absolutely riveting. I haven't been able to put it down." Paul is a member of the board of directors of the Shirley Jackson Awards, and his essays and short fiction have appeared in the Los Angeles Times, Entertainment
Weekly.com
, and numerous "year's best" anthologies
Telluride Horror Show is Colorado's first and longest-running horror film festival! Every year, the festival attracts the latest & best genre films from around the world and attendees from all over the continent for an incredible gathering of film fans in the world-famous mountain resort town of Telluride, Colorado. For three packed days, attendees experience an eclectic mix of horror, suspense, thriller, dark fantasy, sci-fi and dark comedy in Telluride's unique theaters, with many of the films showing for the first time.