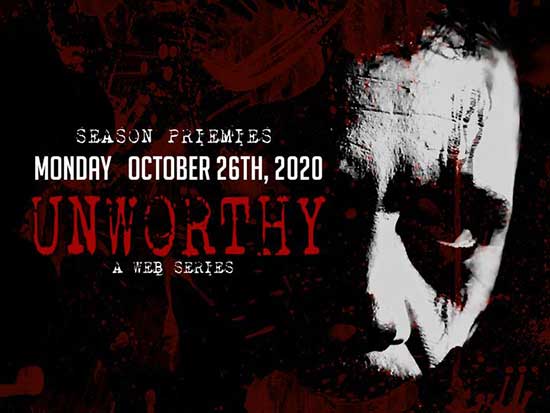 In 3 weeks, Unworthy: A web series will debut its pilot episode. After 2 years of hard work, and dedication of a team of local film makers, we release a web series like that- which is needed during a time like this (covid). During a holiday that makes its premise on masks and gatherings, social distancing is making this a bit difficult. So we developed six (6) episodes, at around five (5) minutes each. We are choosing to self-distribute. In a time when there are enough apps in the world to help distribute digital content, there is no excuse for the extra step in hard work.
An unknown terror has begun to create a problem on a less traveled route. Starring Jess Tomasko & Allie McCarthy, comes this year's hottest new horror web series. Bringing back the old 1970's slasher format alongside digital technology, we bring a new spin to an old genre almost abandoned by all of television. Looking to dominate the "5-minute Web Series," straight out of Minnesota, we give you:
UNWORTHY : a Web Series
A new boogeyman has arrived
Welcome to the 21st century. In the Early 2000's the one-dollar ($1) ringtone download was all the rage. Twenty years later, we are in control of all media we consume at our fingertips. Unworthy: a Web series is the first of its kind. Meant to primarily be consumed at optimum attention span and across almost all mobile and video devices. When each episode airs, a button to choose your platform to access your purchase order will appear. All content is Microsoft, android, google, & apple product compliant. Each episode is just $0.99!! WATCH it on the go, with headphones on, or in the dark!
Unworthy: A Web Series is a 1970's style Slasher web series, filmed along side modern digital technology.
Unworthy: a Web Series
www.unworthyseries.com