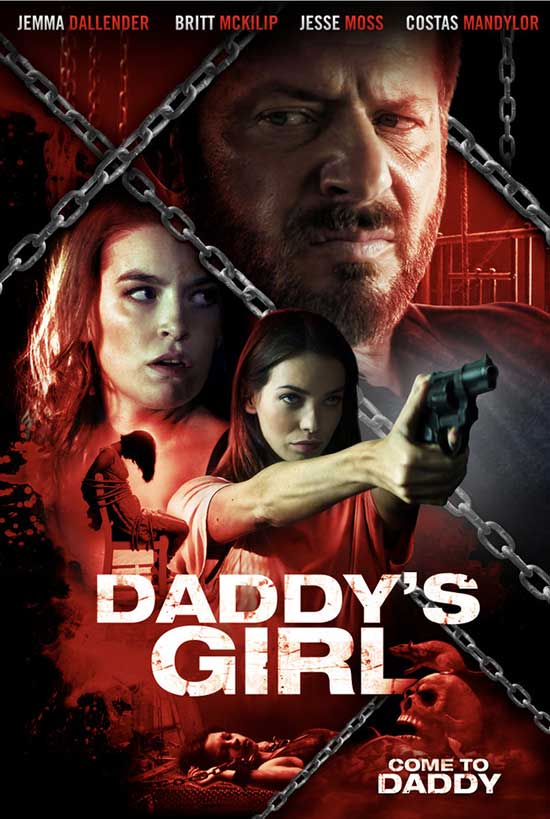 Walmart has joined Cleopatra Entertainment's US release of Julian Richards award winning horror DADDY'S GIRL starring Jemma Dallender (I Spit On Your Grave II), Costas Mandylor (Saw), Britt McKillip (Trick r Treat) and Jesse Moss (Tucker & Dale Vs Evil). On September 29th DADDY'S GIRL will be released across all digital platforms and from October 2nd the DVD will be available to buy from most retail outlets including Walmart. In preperation for the release, Cleopatra have unveiled this striking new poster which perfectly captures the films potent blend of psychological thriller and claustraphobic horror
Winner of the Best Director Award at Fantasporto and nominated for Best Independent Feature Film at the National Film & Television Awards in Los Angeles, DADDY'S GIRL is about a young woman held captive by her stepfather after the suicide of her mother. A former Abu Ghraib prison guard and now prolific serial killer who uses his step-daughter as bait to attract new victims. The search for a missing person captures the attention of a rookie cop and a vigilante who both attempt to rescue the girl. But is she ready to escape or will she remain loyal to her Daddy?
DADDY'S GIRL is the latest offering from prolific UK director Julian Richards whose previous films include REBORN, SHIVER, THE LAST HORROR MOVIE and DARKLANDS. Richards also recently helmed a segment of upcoming Christmas horror anthology DEATHCEMBER which is expected to be released in North American during the holiday season.