HNN Presents 'Master Pieces' and 'Me and the Devil' Now Available on DVD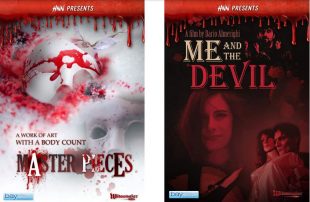 HNN Presents 'Master Pieces' and 'Me and the Devil' now available on DVD from Bayview Entertainment.
HNN Presents: Master Pieces
Master Pieces is an old school slasher with chills, thrills, and gore. A deranged artist goes on a killing spree while a new wife, a weird collection agency, and odd happenings around the house add to his troubles. Featured by the Independent Horror Movie Awards and nominated for Best Kill and Gore. A HorrorNews.net presentation.
Master Pieces Now Available on Amazon
HNN Presents: Me and the Devil
A dark story of madness, pain and love: A young man loses his girlfriend in a park after getting distracted for a short moment; A lonely girl obsessed with crime news and killers starts a trip into the world of evil; A serial killer keeps killing women in the city; and a man of great faith realizes that a dark power lurks waiting for more victims. From Dario Almerighi, the writer and director of "42-66: The Origin of Evil." A HorrorNews.net Presentation.