One of the true pleasures of writing on film, whether it be in the horror genre or elsewhere,  is having fate chart your course, on frequent occasion, as a scribe such that it allows the occasional parallel course match, and even an intersection of connection, with many of the other artists in the medium whom you've interviewed before and offering up a chance to see where their reputation trajectory has gone. One such instance continues to be myself witnessing the amazing journey of singer/composer/writer/director/actor Jonathan Cartwright. Readers may recall that I'd previously wrote in May about Cartwright and the gang at Twilight Production Studios busy putting polish on their first horror short feature Demu. Well, since then a new official teaser trailer has been released. You can check it out here: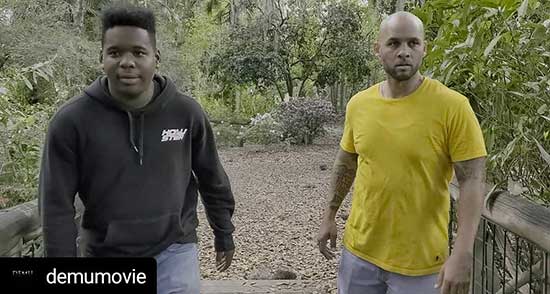 Cartwright is a director with more of the mindset of a budding auteur. In my recent conversation with him,  I noticed a distinct disdain for the ordinary when it comes to labeling a film just as horror and pigeonholing it into that category of genre and leaving it at that. I get the sharp feel that he has a thoroughly convincing argument ready for anyone should they attempt to change his mind as well. To him Demu is beyond the standard of chiller tropes and titles. "Its weird, cosmic horror. More like dark color in the picture. Totally weird but very scary in dark space opera type of paranormal." Definitely a refreshing approach and, in this day and age formula of repetition ad nauseum by mainstream Hollywood, something that folks eager for different can very much look forward to. Cartwright is certainly one of the artists who remains undaunted by the current scary, restrictive environment cause by the COVID pandemic. He's used the down time to continue fine-tuning Demu with studio voice work and to continue to promote his music work (quite the soulful vocalist and composer in my opinion) and his Everlasting Victory album. In fact, he was excited and beyond proud to show me the official fan reaction to EV via Omegle. Check out the youtube video here on that: youtu.be/v0ckjJq8YyU
Cartwright still has plans for the 35 minute Demu, about two friends who take a journey through the forest only to end up the targets of demon possession that tests the very limits of their friendship, to be released at some point in the fall of 2021.
Cartwright and company are not alone in this delay due to the COVID-19 situation, as most of Hollywood can attest to. In addition to the behind the scenes photos attached here, there are more video clips and material on the production to be found at the Demu movie webpage found here: victory108.wixsite.com/demumovie. For an added treat, peruse the flub reel at www.facebook.com/watch/?v=881215735728058.
I continue to hope that the guy who names his influences as a youth (on his website www.evictory108.com/ ) being Coldplay, Woodkid and Mozart continues to look at his future projects from that same askew angle of the unique. As my next station stop approaches and I part ways with that gifted kid Jonathan Ranard Cartwright, I make a mental note to check the his train schedule for the next time it roars through my area and I can hop onboard for another visit.