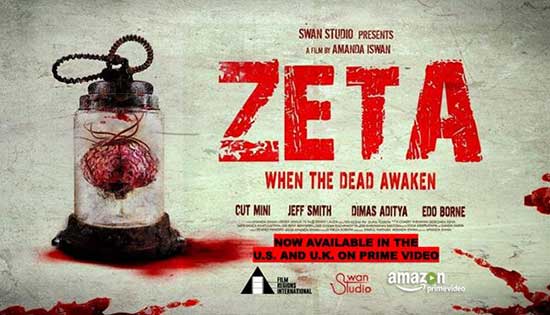 Film Regions International (FRI) has recently released two foreign horror films to U.S. video on demand (VOD) platforms including Amazon Prime Video and will have several upcoming titles coming soon.
"We have been aggressively pursuing finished foreign horror films to release to audiences here in the U.S. on VOD and hope to continue this supply of product" said Myron Ward and John R. Blythe, co-chairmen of FRI.
The two films that FRI has imported from overseas are "Zeta: When the Dead Awaken" an Indonesian zombie apocalypse film directed by a first time female filmmaker Amanda Iswan; and the acclaimed British film "A Reckoning" directed by Andrew Barker, a post-apocalyptic drama starring Leslie Simpson, who is best known for his roles in Neil Marshall's "Dog Soldiers" and "The Descent".
Both films are currently available for rental or purchase on Amazon and subsequent VOD platforms will follow soon.
FRI will also be handling another horror film out of Indonesia titled "Tujuah Bididari" (English Title: "7 Angels"), a supernatural thriller directed by Mohammad Yusuf which will have a release later this summer.
Additionally, FRI is serving as producer's representative in certain non-U.S. territories for the critically acclaimed supernatural psychological thriller "Aiyai – Wrathful Soul" directed by Ilanthirayan Alan Arumugam which will likely see a U.S. release soon.
FRI has also produced some in-house horror films including Brandon Scullion's upcoming slasher "The New Hands" which stars Stephen Wu, Felissa Rose and Oscar® nominee and Golden Globe® winner Sally Kirkland.
FRI has also produced a few non-horror films including the upcoming mob thriller "Booze, Broads and Blackjack" starring Vincent Pastore (HBO's "The Sopranos") and James Duval ("Donnie Darko", "Independence Day"); and the dramedy "Routines" starring Anita Nicole Brown (TV's "Chicago Fire"). Both are expected to see a release later in 2020 as well.
Film Regions International, Inc. (FRI) specializes in the development, production and distribution of independent film productions and has both a domestic and international presence. The production company's past films include the critically acclaimed documentary feature "My Amityville Horror" which IFC Films distributed domestically; the award winning foreign language film "One Day when the Rain Falls"; the drug smuggling comedy "Border Brothers" starring Luis Fernandez Gil (El Rey Network's "Lucha Underground") and the grindhouse style "Machine Gun Baby" starring scream queen Brinke Stevens. These films are available on various VOD platforms including Amazon Video.