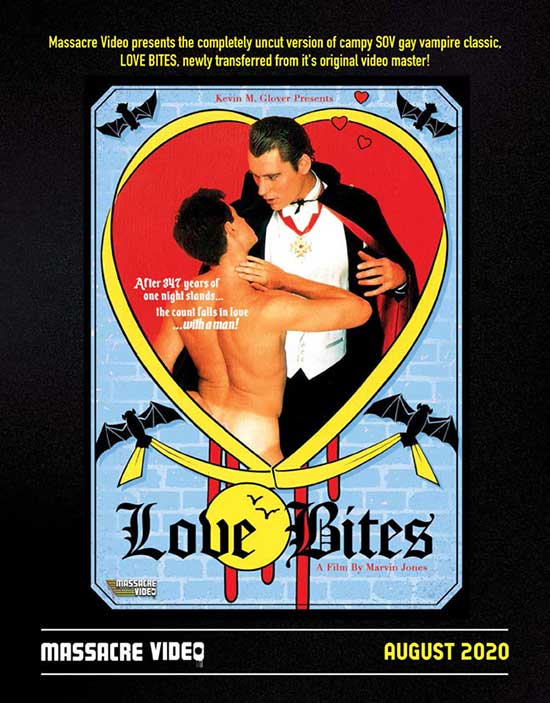 Love Bites
1 DVD disc
Label:  Massacre Video
Preorder:  7/14/20    Release:  8/11/20
MSRP:  $19.99
UPC:  663390001851
Catalog #:  MV-032
Genre:  Gay-Lesbian, Horror
MPAA Rating:  NR
Color, 69 minutes, in English
Region:  0
Full Screen 1.33:1
Dolby Digital 2.0 Stereo
Production year:  1992 in the USA
Director:  Marvin Jones
Cast:  Kevin M. Glover, Tom Wagner, Christopher Ladd
If you want to bust that green-eyed ghost haunting your New York Brownstone, you probably know where to turn. But, if you want to nail a six-foot Vampire cruising the back alleys of West Hollywood — who you gonna call?
After 347 years of one-night stands, the Count is finally falling in love. Trouble is, his new amour doesn't want to steal his heart, he wants to drive a stake right through it, what a way to start a romance!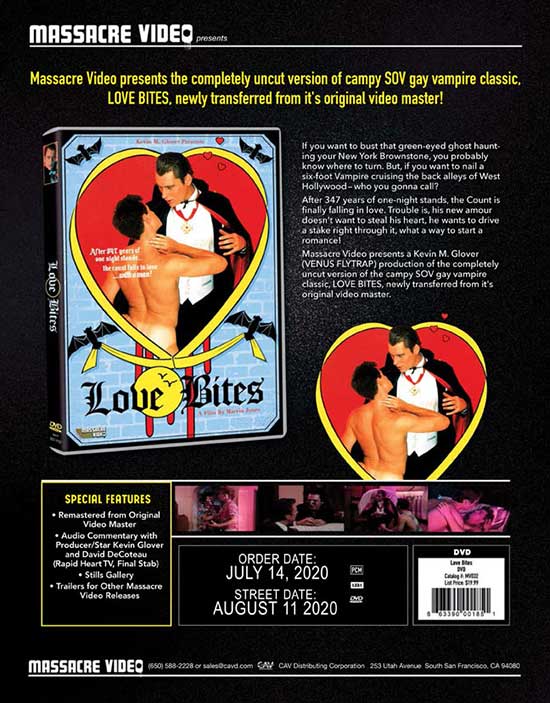 Massacre Video presents a Kevin M. Glover (VENUS FLYTRAP) production of the completely uncut version of the campy SOV gay vampire classic, LOVE BITES, newly transferred from its original video master.
SPECIAL FEATURES:
Remastered from Original Video Master.
Retro-VHS Reversible Cover.
Audio Commentary with Producer/Star Kevin Glover and legendary cult director David DeCoteau (RAPID HEART TV, FINAL STAB).
Stills Gallery.
Trailers for Other Massacre Video Releases.