CAV and Mondo Macabro's August 2020 Release of GEMINI – An astonishing gothic horror film from the director of TETSUO!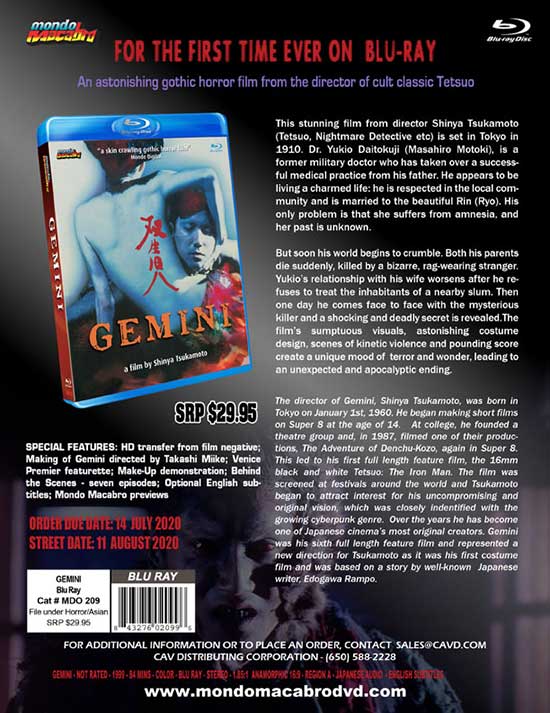 Gemini
1 Blu-ray disc
Label:  Mondo Macabro
Prebook:  7/14/20    Street:  8/11/20
MSRP:  $29.95
UPC:  843276020996
Catalog #:  MDO209
MPAA Rating:  NR
Genre:  Horror
Color, 84 minutes, in Japanese with English subtitles
Region A.
Widescreen 1.85:1
DTS-HD MA 2.0 Stereo
Production year:  1999 in Japan
Director:  Shinya Tsukamoto
Cast:  Masahiro Motoki, Ryo, Shiho Fujimura, Renji Ishibashi, Tadanobu Asano
This stunning film from director Shinya Tsukamoto (TETSUO, NIGHTMARE DETECTIVE) is set in Tokyo in 1910. Dr. Yukio Daitokuji (Masahiro Motoki), is a former military doctor who has taken over a successful medical practice from his father. He appears to be living a charmed life: he is respected in the local community and is married to the beautiful Rin (Ryo). His only problem is that she suffers from amnesia, and her past is unknown.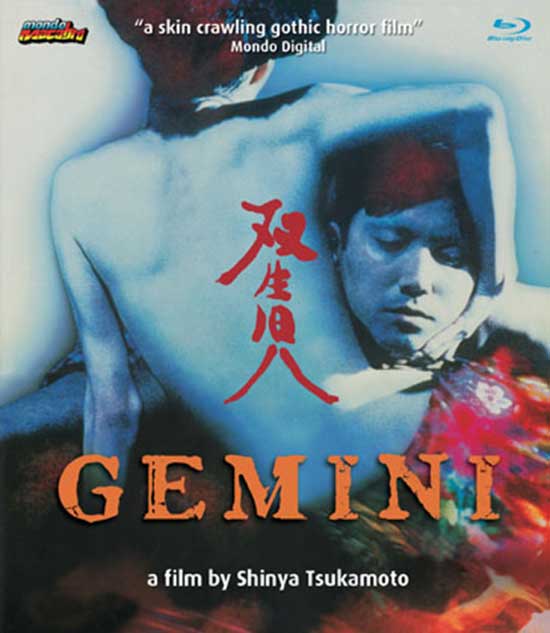 But soon his world begins to crumble. Both his parents die suddenly, killed by a bizarre, rag-wearing stranger. Yukio's relationship with his wife worsens after he refuses to cure the inhabitants of a nearby slum. Then one day he comes face to face with the mysterious killer and a shocking and deadly secret is revealed.
The film's sumptuous visuals, astonishing costume design, scenes of kinetic violence, and pounding score create a unique mood of terror and wonder, leading to an unexpected and apocalyptic ending. This is the world premiere Blu-ray edition of this film.
SPECIAL FEATURES:
HD transfer from a film negative.
Making of GEMINI directed by Takashi Miike.
Venice Premiere featurette.
Make-Up demonstration.
Behind the Scenes – seven episodes.
Optional English subtitles.
Mondo Macabro previews.
GEMINI – Coming soon to Blu-ray from Mondo Macabro on Vimeo.