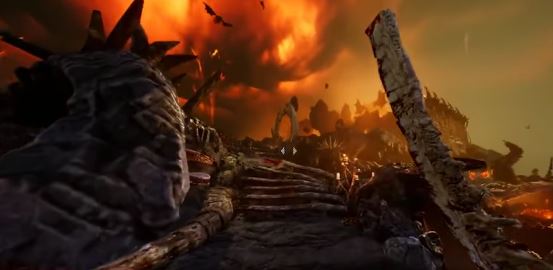 We would like to present the latest Succubus Teaser Trailer, focusing on a new type of an opponent – The Chort. This demon is a new type of threat to the main character.
His unsurpassed melee power and fearlessness make him one of the most demanding enemies in the game.
As soon as it enters the arena, it becomes a great challenge for the players, teaching them tactical approach to combat and skillful use of special powers.
The Chort can deal considerable damage using close range attacks, and thanks to his charge and long jumps,
he can quickly find himself next to the player, who needs to move around constantly in order to survive the encounter.
Due to the fact that this demon is much stronger than most opponents, it is also immune to some of the attacks, such as kick or push / stun.
One of the key elements of the Succubus promotional campaign remains the main character of the game – Vydija, who maintains her Twitter account, regularly uploading new photos and interesting facts from the game world.
Players have the opportunity to maintain a dialogue with Vydija, who actively responds to their comments and suggestions. Responding to the needs of the fans, we decided to expand Vydija's activities on the Internet.
Vydija has also begun to talk about the progress of the development of Succubus, describing it on her private Blog, which allows fans to be up to date with the production.
Vydija's Blog – bit.ly/37HheZQ
Vydija's Twitter – twitter.com/vydija
Succubus page on Steam – bit.ly/2W78Htk
Press-Pack: www.dropbox.com/sh/wvvtnzvni7p5z64/AADEzkZW1Xb_fmx_V_IPq3_La?dl=0
SUCCUBUS – key features:
Intense and brutal action using weapons and pyrokinesis.
Diversified opponents and boss fights.
Expandable skill tree.
A system of weapons and armor that affect player's statistics.
Character and Hub customization.
A rich and diverse world of Hell.
A multi-story plot combining horror with action and survival.
Hostile environment full of traps and enemies.
Surreal visual setting and gore.