A LONELY, HAUNTED MAN FALLS VERY DANGEROUSLY IN LOVE
THE SIREN
The Seductive Supernatural Thriller Comes to Digital Platforms and DVD
on January 28, 2020
THE SIREN
The Seductive Supernatural Thriller Comes to Digital Platforms and DVD
on January 28, 2020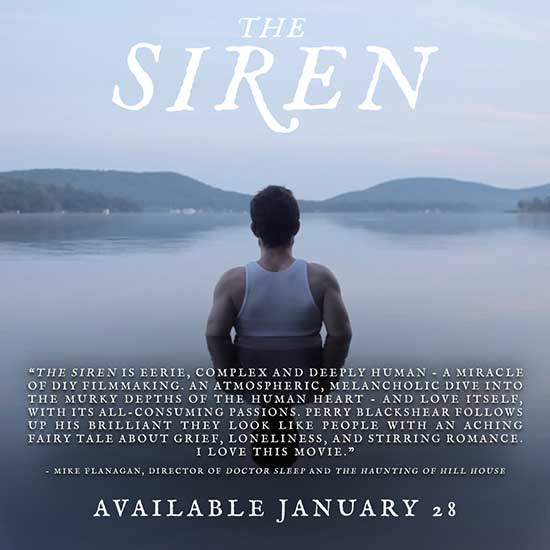 A man searches a secluded lake for the monster that murdered his husband, while that monster falls in love with an unsuspecting visitor in the award-winning THE SIREN. The new fantasy-horror film from writer-director Perry Blackshear (They Look Like People) arrives on Digital and DVD on January 28, 2020.
THE SIREN is an enthralling, seductive and creepy supernatural tale about cursed star-crossed lovers. Tom (Evan Dumouchel, Stephen King's Doctor Sleep, 40 Days and Nights) is a mute man from a sheltered, religious background who is haunted by the childhood accident that cost him his voice. While on a retreat at a lake house, he meets Al (MacLeod Andrews, A Ghost Waits, Doctor Sleep), whose husband drowned in the lake-one of many mysterious deaths there.
The area is marked by a local legend of a lovelorn spirit who haunts the surrounding woods and drowns anyone she encounters. The legend proves all too real when Tom encounters the beautiful creature. Drawn to her immediately, Tom knows he has found his soulmate in the seemingly human Nina (Margaret Ying Drake, They Look Like People, 59 Seconds), who must battle to repress her demonic instincts when she feels the same toward him. Meanwhile, Al, possessed by vengeance, circles the pair, getting ever closer to tracking down the monster that destroyed his happy marriage.
Part dark fairy tale and part elegant nightmare, THE SIREN is a heart-wrenching story of passion and revenge that will take hold of you and never let you go.
THE SIREN won three awards at the Brooklyn Horror Film Festival, including Best Director, for Perry Blackshear, and Best Actor, for Evan Dumouchel. It was also nominated for Best International Feature Film at the Strasbourg European Fantastic Film Festival.
Critics have lauded THE SIREN, placing it in the company of such recent fantasy-horror successes as The Shape of Waterand The Lure. Matthew Turner of Nerdly called it "a strikingly directed and superbly acted creature feature that's simultaneously charming, creepy and achingly sad." "The direction from Blackshear is masterful, the cinematography beautiful, the music gorgeous, and the performances outstanding,"said Pip Ellwood-Hughes of Entertainment Focus.
SciFi Now's Aton Bitel praised the film as "hauntingly melancholic" and "tense,"writing, "Like Alain Guiraudie's Stranger by the Lake, Justin Benson and Aaron Moorhead's Spring and Paul Thomas Anderson's Phantom Thread, it concerns people who embrace with open arms what is dangerous, forbidden, impossible -and who willingly dive deep into what might just suffocate them."