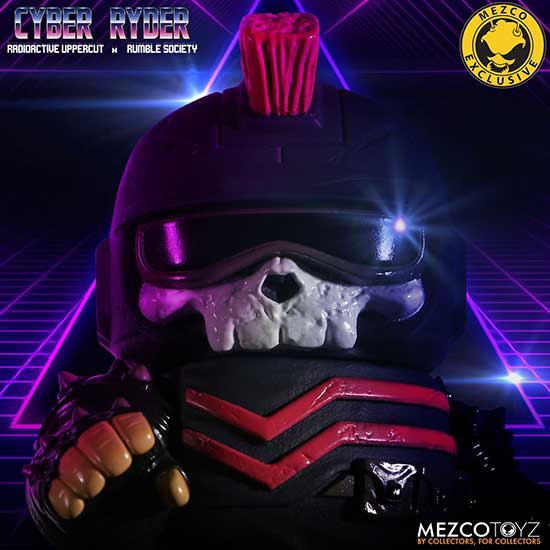 Rumble Society: Cyber Ryder
Radioactive Uppercut and Rumble Society present their first collaboration project. Designed by soft toy mad scientist, John Santagada, and inspired by things from the 1980s, we present: Cyber Ryder.
The Earth has been decimated and chaos reigns over the lawless planet.
Before the fall, a top secret black budget program was initiated as a fail-safe for such an event. An elite android law enforcement taskforce was created — the Cyber Ryders.
The Ryders surveil all, dispensing a brutal brand of law and order. They have outlived their makers — the future belongs to the Cyber Ryders.
Cyber Ryder is outftted in a tactical uniform, helmet with mohawk, spiked shoulder armor and gloves, and combat boots. His right forearm can be interchanged with a powerful laser cannon, which conceals neatly inside of his removable head.
Cyber Ryder stands 4" tall and features 6 points of articulation. He comes packaged in a collector-friendly polybag.
Rumble Society: Cyber Ryder is available for preorder at https://mezcotoyz.com/rumble-society-cyber-ryder.