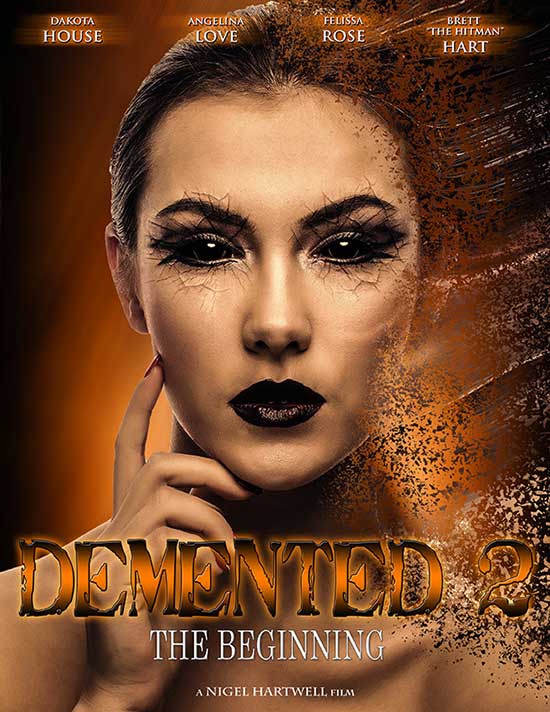 DEMENTED, a film by Nigel Hartwell 
Feature Film Debut Starring: Felissa Rose, Dakota House, Cheyenne Ennis, WWE Hall of Famer Bret "Hitman" Hart and WOH Champion Angelina Love. Scheduled for early  in Canada 2020, worldwide release dates to follow.
Demented had its world premiere at the Edmonton Festival of Fear October 12 2019, and won for BEST ACTOR & BEST EXPLOITATION FILM. The film will be released in October 2020 by New Blood Entertainment. This ensemble cast turns out an amazing performance in this truly unique film that breaks every rule in the Horror genre and creates some new ones in the process.
DEMENTED is a film-within-a-film, that takes you deep into the dark world of fetish cinema. An edgy, eerie, docu-style story, telling the harsh realities of voyeurism meeting Final-Fantasy. A world in which hidden figures exist expressly to take advantage of the meek. Young women on the fringe of society, looking for the promise of "true love" and a 'better life' are dragged down the torturous road of No Return. The sick, twisted minds of the Dark Net's Master Manipulators are the New Puppet Masters and profiteers, forcing these lost girls to do their perverted bidding in the most disturbing recesses of the Dark Net.
DEMENTED is a twisted triangle of hope, haplessness and horror that continues to dominate today's shocking headlines, that of human trafficking.
There is a sequel in the works with both Bret Hart and Angelina love attached and the production company is has created a campaign where wrestling fans can be in the movie with these two champions.
CLICK HERE TO CHECK OUT ALL THE COOL PERKS TO BE INVOLVED IN THIS TWISTED NEW HORROR FILM.