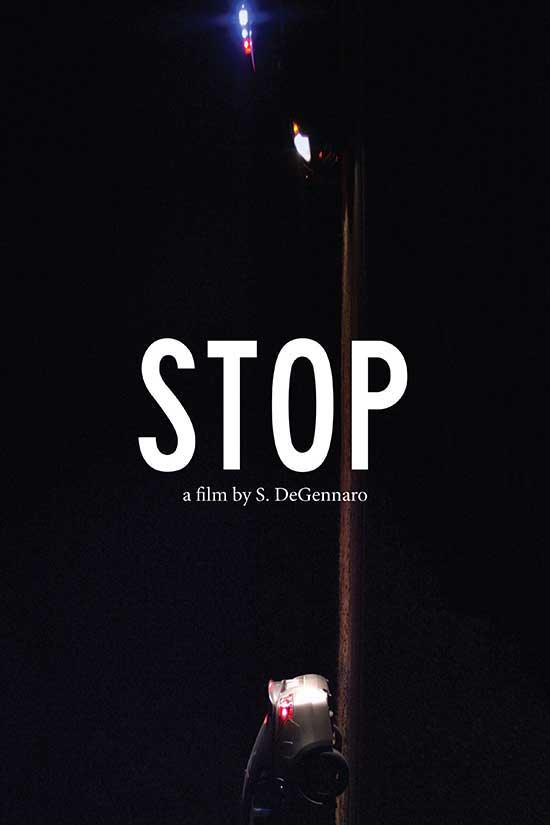 From Executive Producer Jeffrey Reddick,
Creator of Final Destination, Comes Social Justice Thriller "STOP", Which Makes Its Online Debut Today
Director Steven DeGennaro continues to surprise, pivoting away from the horror-comedy of his debut feature Found Footage 3D to deliver a pulse-pounding thriller that tackles one of the most important social justice issues of our day.
STOP tells the story of a routine traffic stop that takes a sinister turn when two black men encounter a small-town cop on a power trip.
The 12-minute short premiered at Dam Short Film Festival in February, where it was awarded "Best Horror." After 20 more festival screenings–including SXSW–and four more awards–including "Best Narrative Short: Suspense" at the Baltimore International Black Film Festival–the movie debuts online today on prestigious YouTube channel Omeleto.
STOP stars Camron Jones (upcoming Amazon Original Series Panic), Chris Boykin, Jessica Perrin, and Paul Hickert, and was written by DeGennaro and Scott Weinberg, produced by DeGennaro, Weinberg, and Charles Mulford, and executive produced by Jeffrey Reddick, creator of Final Destination.
"I've cared about the issues of police violence and systemic racism for a long time," says DeGennaro, "but always felt powerless to do anything. So I decided that the best way for me to contribute to positive change was to use my art to speak truth to power."
Executive Producer Jeffrey Reddick adds, "In a time where division and hatred are on the rise, I strongly believe everyone needs to be a part of the conversation, and Steven's voice is one that needs to be heard."
DeGennaro insists that despite its lack of ghosts or gore, STOP is definitely a horror film. "All too often, a traffic stop can become a horror story in the blink of an eye for people of color in this country. We wanted to tackle this horror head on, without the metaphorical buffer typically used by genre films that tackle social issues. But it's definitely a monster movie; it's just that instead of fangs and claws, the monster in this story has a badge and a gun."
AWARDS
Audience Award – Best Horror
, Dam Short Film Festival 2019
Audience Award – Best of Fest
, Show Me Justice Film Festival 2019
Best Social Justice Short Film 
– Cordillera International Film Festival 2019
Best Narrative Short – Suspense
, Baltimore International Black Film Festival 2019
Audience Award – Best of Fest
, Tallgrass Film Festival 2019