WICKED WORLD GETS THE AGFA TREATMENT
WICKED WORLD SLATED FOR NOV 12th RELEASE
Violent, twisted, and brutally horrifying, WICKED WORLD is a feature length movie shot on 16mm Film in Toronto in 1990, by Director Barry J. Gillis, who is known for bringing the World, THINGS (1989), Starring Porn Queen Amber Lynn, THE KILLING GAMES (2012), and HOUSE OF MANY SORROWS (2019), Starring 80's Porn Star Ginger Lynn Allen, which will be released near the end of 2019.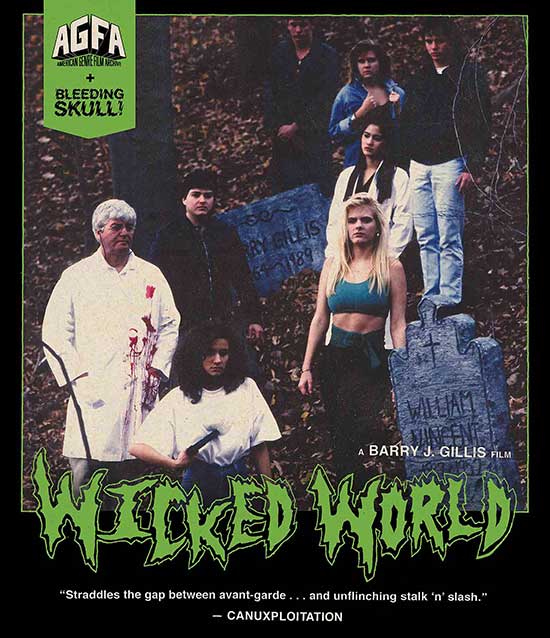 Virtually unseen until now, the American Genre Film Archive, (AGFA) is unleashing WICKED WORLD to an awaiting mass of die hard horror movie fans, who have only heard about WICKED WORLD in whispers.
WICKED WORLD is about a dirty cop, named Grant Ekland, with a checkered past that endlessly haunts him. The love of his life was murdered by a serial killer named Harold, who has slaughtered a countless number of humans, in the city of Toronto.
Harold who has been in a Mental Institution, for many years, is now set to be released back into society, and Ekland hopes for a final showdown with his arch enemy.
The body count in WICKED WORLD is high, and die hard horror fans are in for quite the treat, when WICKED WORLD (which is currently available on Amazon for Pre-Order), is released on November 12th. WICKED WORLD AMAZON
"I Shot WICKED WORLD in 1990, on 16mm Film, and somehow, almost 30 years later, the movie ended up in Joe Ziemba's hands, who is the Executive Director of AGFA. Joe contacted me, and asked if I would be interested in having AGFA release WICKED WORLD, and of course, I jumped at the offer", says Gillis.
WICKED WORLD will also be playing various Alamo Drafthouse Theatres, in select U.S. Cities in January, 2020.
"I am very excited about this Release. I put a tonne of work and time into editing a new version of WICKED WORLD, and I am quite happy with Joe and how the AGFA team in general, has been handling this release." exclaims Gillis.
The WICKED WORLD Bluray/DVD Combo release, contains a behind the scenes hour long documentary, commentary with Gillis, and many more extras. WICKED WORLD AGFA WEBSITE
Gillis is currently working on TALES FROM THE DEAD ZONE, Starring Bret Hart, and Corey Feldman, which is expected to be released in 2020.