Announcing the release of our very first figure in our new horror line: Vinyl Terrorz: Freddy Krueger!
In this line, we'll be creating figures of artist interpretations of horror's greatest icons
Core Edition: bit.ly/VinylTerrorzFreddy
Shadow Edition: bit.ly/VinylTerrorzShadow
Cryptozoic Entertainment, leading creator of board games, trading cards, and physical and digital collectibles, and Warner Bros. Consumer Products today announced the release of the Vinyl TerrorzTM: Freddy Krueger vinyl figure. The 7-inch first figure in Cryptozoic's new horror-themed Vinyl Terrorz line depicts the villain from the A Nightmare on Elm Street film series with his iconic glove, fedora and burned face.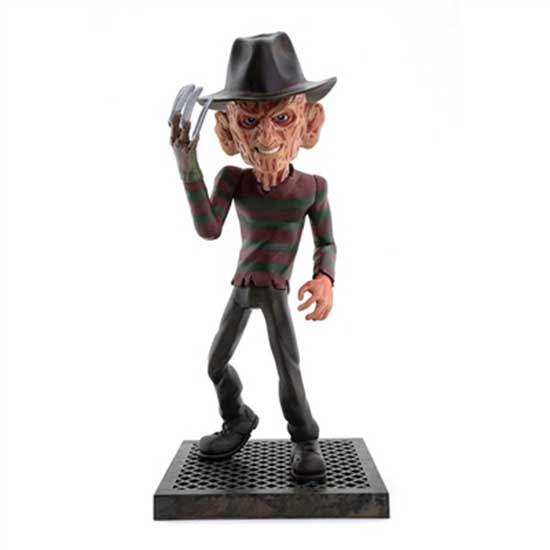 From the shadows of your worst nightmares, Freddy's coming for you! Freddy Krueger Shadow Edition is a variant of the figure from Cryptozoic's new horror-inspired Vinyl TerrorzTM line. This limited edition collectible is a Cryptozoic Exclusive, only available on the Cryptozoic eStore while supplies last!
The figure is the first in a planned slate of Shadow Edition variants, which are inspired by Cryptozoic's popular Golden Goddess variants, bringing a similarly bold design to the horror genre. It features a heavy dose of black, underlining Freddy's association with the darkness of night in the A Nightmare on Elm Street film series. In addition, the metallic blood-red eyes, hat, teeth, clawed glove, and portions of his shirt highlight the unrelenting villain's desire to kill (in gruesome fashion) those that he targets while they sleep. Are you terrified yet?
This 7-inch figure comes in a window box with colors and foil that are distinct from the box of the core edition. In addition, each box includes a sticker with a unique number (1-350).
Quantities are very limited (only 350 figures produced), so order yours today so it can be shipped to you just a few weeks from now in June! If you don't, Freddy has been known to be pretty vengeful…