Presenting the controversial, uncensored movie "Portraits of Andrea Palmer", as part of the Living Installation. We are projecting it on our bodies and in our art space in Bushwick, to combat censorship!
BODIES! with screening "PORTRAITS OF ANDREA PALMER"
The Living Installation/ Michael Alan and Jadda Cat
Saturday June 15th
Please select from the below times, or reserve more than one if you'd like to stay longer!
8pm-10pm includes performance and film projection. The film begins at 8:15pm.
10pm-midnight includes performance and film projection. The film begins at 10:15pm.
Midnight-2am is the film projection with no performance. The film begins at 12:15am.
Online view is from 8pm-midnight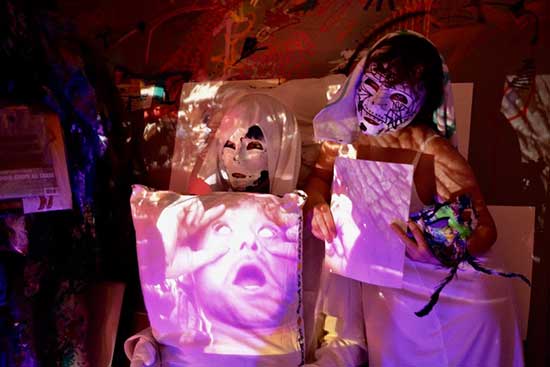 Tickets $40 suggested / $20 discounted. Select which works best for you. We are not for profit. We do this project because it is needed in our culture now!
Studio address provided with RSVP. Please reserve your spot ahead of time so we can accommodate you! Please allow some time for us to email you back with the address or online view information
Tickets at: www.michaelalanart.com/thelivinginstallation
The Living Installation is a live expressive surreal mediative experience, a living movie acted out. The four-hour performance is broadcasted live worldwide, with limited availability to attend in person. Come to Bushwick, Brooklyn for an authentic, intimate view of an old NYC happening at Michael Alan's private studio.
Artist couple, Michael Alan and Jadda Cat constantly morph materials, light, color, sound, and costume with their bodies mind and spirit to create ever-changing living sculpture. Michael Alan's art comes to life! Jadda Cat's energy transcends throughout eternity!
The Living Installation is a refreshening low-fi look into the essence of creation. It is a behind the scenes presentation of art rather than a gallery setting. The evening consists of wacky performance, body art, video projection, live music, and punk sounds, with comedic satirical elements, endless inspiration, and so much more. Over one hundred works of Michael Alan are on display.
This ongoing living art human project, has been going strong for close to 20 years in NYC, founded by Bushwick-born Michael Alan. He has been creating live shows in NYC since the 90s. He believes in preserving the raw essence of old New York.
Bodies! This evening includes the special addition of the controversial independent horror film "Portraits of Andrea Palmer", directed by C. Huston and Joe Rubin. The film will be projected into the installation and onto the performers. Michael Alan and Jadda Cat perform, reinterpreting the film with two medical mannequins!
This film has not reached the audience it deserves due to its controversial content. See one of its first screenings in Brooklyn! The Living Installation is always excited to have the opportunity battle censorship and judgement in art.
Art Art Art +Activism + Productivity x 10000000000000zillion
Michael Alan Alien
www.michaelalanart.com
gassergrunert.net/test/?cat=44&paged=3