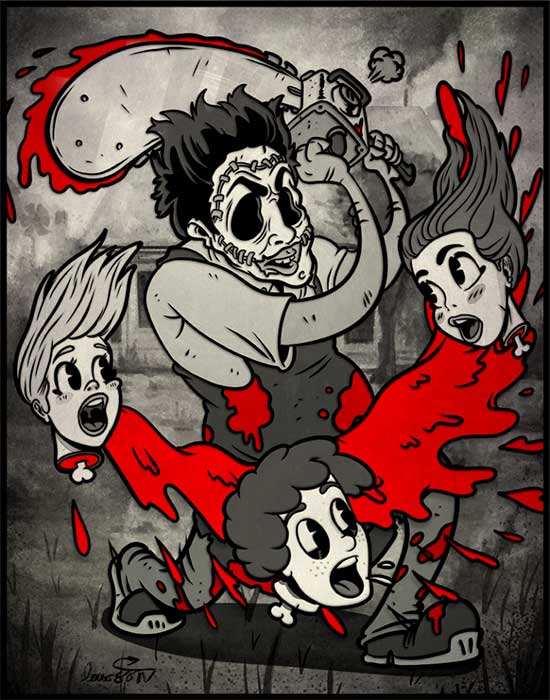 Illustrator Devin "Spicy Donut" Lawson has a new series which draws serious influence from classic cartoons of the 1930s like Max Fleischer's Merrie Melodies, or Disney's Silly Symphonies.
This art style has seen a massive resurgence in popularity thanks to 2d Action Shooter Cuphead. Devin has been an illustrator and animator for over 20 years and is hoping to inspire fans with his new rubber hose horrors including a new set of enamel pins on Kickstarter.
In each design, you can find a love for the art style as well as the characters they represent.
Leatherface in La La Land is the first of the new additions with an over the top beheading. This juxtaposition of cartoon violence and silliness make for an amusing take on the Texas chainsaw-wielding cannibal.
The Dancing Clown of Derry captures the Stephen King icon who is leaping into the box office again this year with It: Chapter 2!
Gosh Golly Gh-Gh_ghostface is a play on the classic Scream scene featuring a young Drew Barrymore as Casey Becker. 1930's troupes like appearing from the handset of an old telephone are hallmarks of the nonsensical genre.

Spicy Donut is hoping to raise 1000 dollars to produce all 3 pins and aiming for an October ship date! Perfect for Halloween.