"MENAGERIE"
New Film From Long Island Director/Producer Sarah Martin
To Premiere at The Bellmore Movies
Friday, May 3rd
New Independent Horror Feature Will Make It's Big Screen Debut From One of Long Island's Own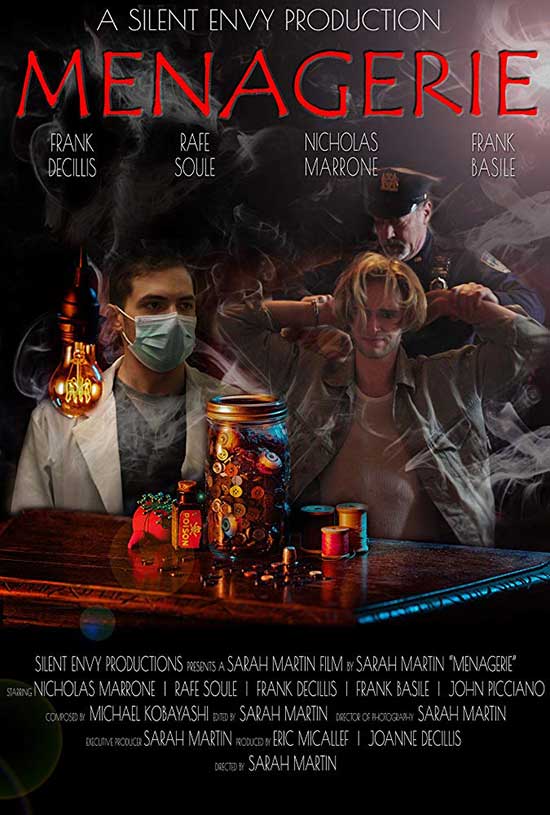 This May, budding film Director/Producer Sarah Martin and Silent Envy Productions will premiere their brand new feature "Menagerie" at the historic Bellmore Movies (222 Pettit Avenue, Bellmore, NY 11710)! The 90-minute film will debut Friday, May 3rd at 9:30PM followed by a full Hollywood treatment experience with a film backdrop and red carpet, raffle baskets valuing over $1000 in prizes, film t-shirts, and an after-party right next door.
The story unfolds as 5 kids (Tyler Williamson, Eitan Yehoshua, Jaycie Zelaska, Chloe Williamson, & Alexandria Zelaska) enter a shop of oddities (wild bills nostalgia center) and uncover the secret life of the eyeball killer (based on true events). Two detectives (Frank DeCillis & Frank Basile) take on the case and lead us on a whirlwind of events to discover the truth behind the mask. Who will be next?
Also starring: Nic Marrone, Rafe Soule, Robyn Babina, Avery Zangri, John Picciano, Ana Capella, & Kirk H. Andersen.
Sarah Martin is a long island filmmaker who is best known for (Nefarious 2017-starring Jamie Ragusa, Avery Zangri, & Honor Amongst Men 2018-starring Joan Jett, Ed Asner, and Chuck Zito). Her love for creating pushed her to start her own film company, Silent Envy Productions, back in 2016. She is dedicated, hardworking, and driven through her entire project(s) from start to finish.
Now, as she's set to debut her brand new feature "Menagerie" at The Bellmore Movies on Friday, May 3rd, you won't want to miss out on this thrill ride based on true events!