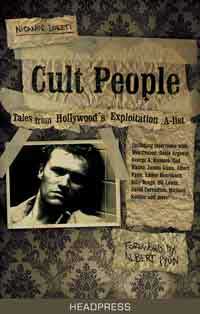 BRAND NEW FROM HEADPRESS: PRE-RELEASE COPIES OF NICANOR LORETI'S CULT PEOPLE ONLY AVAILABLE NOW HERE FOR THE SPECIAL PRICE OF £9.99
Ted Raimi has appeared in Spider-Man. His former babysitter is Bruce Campbell. Bill McKinney was a redneck rapist in Deliverance. Anthony Taylor produced Incubus, the only horror film spoken in Esperanto. Lance Henriksen was in Aliens and Near Dark. Cool people. Cult People.
Cult People is a selection of interviews with many of the world's most fascinating and renowned stars of cult cinema, conducted by tireless cineaste Nicanor Loreti and including the late David Carradine, the legendary Ken Russell and the lamentable Albert Pyun…
Few interviewers are able to boast either the expertise or the rich repertoire of subjects that Loreti can, and in this incredible collection his knowledge and enthusiasm opens up his interviewees on the unbelievable world of alternative Hollywood as never before. While shedding light on the making of countless classics of cult and mainstream cinema, not to mention the film making process in general, Loreti also exacts singularly eccentric recollections of a singularly eccentric industry, including mass zombie auditions, crews and casts stranded in distant lands without funding, and downright dangerous attempts to make a low budget movie in the North Pole.
Other interviewees include Billy Drago, Wes Craven, Michael Ironside and Don Stroud. Cult People is a book for the budding director, actor, producer and cinematographer as much as it is the fan or fanatic. In fact, if you like cinema, you'll love Cult People.