If like us you have fond memories of pop up books as a child, it's hard to believe that there aren't more adult appropriate one's out there. Well, we decided to get creative and take some of the most well known scary scenes from film and TV and see what they'd look like as pop up books… They do have a bit of a twist though, we wanted to keep them PG friendly! Who thought that Jaws could be cute and cuddly, eh?
If you'd like to check out the piece, it can found on the Oldrids website.
Remember reading pop up books as a child? It was so entertaining to see the story's characters coming to life… but why should adults get all the fun?
We've reimagined iconic moments from some of history's scariest films and TV shows as pop up books. From the classic Jaws to recent sensation Stranger Things… why not water them down (as much as you want) and read one to your child as their next bedtime story?
Jaws
Few films fit the description of a "classic thriller" better than Jaws. Man meets shark. Shark tries to eat man. Man kills shark. In the interest of keeping this PG-friendly however we've watered down the scene a little. That man who appears to be fighting for his life? He's really just play-fighting… honest!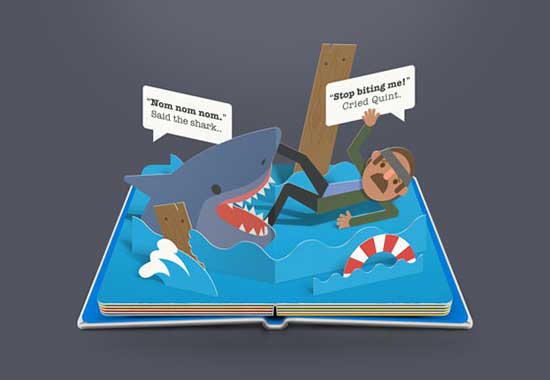 The release of Jaws was a landmark moment in cinema, recouping its $9 million production cost in just two weeks at the box office, and taking $470 million in total.

Alien
Another revolutionary film, Alien was arguably way ahead of the curve, winning an Oscar for best visual effects following its release in 1979.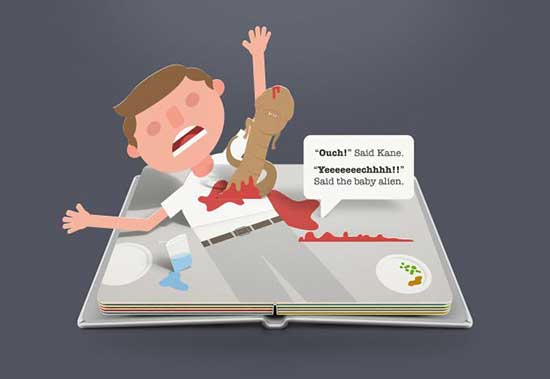 This pop up page depicts the unforgettable 'chestburster' scene in which Executive Officer Kane, played by John Hurt, meets a painful end. A small alien bursts from his chest and the rest of the film deals with the ensuing fallout.

It
The second film adaptation of Stephen King's It was one of the biggest movies of 2017. With a budget of 35 million dollars, it took over 700 million at the box office.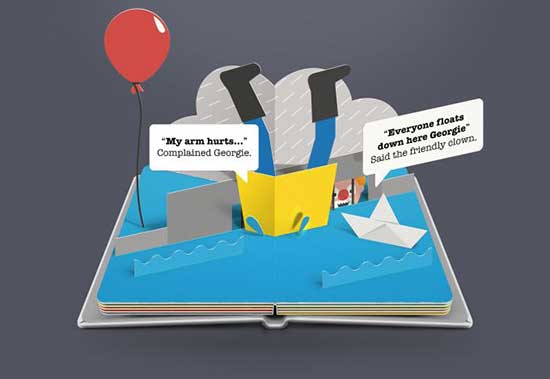 We've picked the scene in which Georgie is introduced to Pennywise. Who's Pennywise, you ask? We've referred to him as the 'friendly clown' in our version, instead of the shapeshifting supernatural entity. Just chalk it up as another little white lie to tell your kids…
Stranger Things