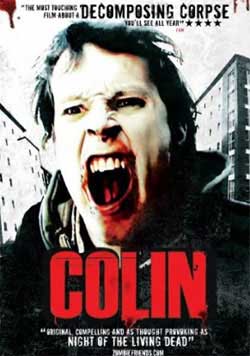 Breathing new life into the undead is the British horror phenomenon Colin, about the life of a zombie told through his own eyes, stalking onto DVD Oct. 19 (distributed by Walking Shadows).
A surprise hit at the 2009 Cannes Film Festival, Colin enjoyed a limited U.S. theatrical run in September/October and played to acclaim at numerous film festivals and horror conventions across the country. Colin won "Best Micro-budget Feature Film" at the Raindance Film Festival, the "Indie Spirit Award" at the South Africa Horrorfest, "Best Director" at the Buenos Aires Blood Red Film Festival and the "Special Jury Award" at the Revenant Film Festival.
In Colin, life bites (literally!) for Colin (Alastair Kirton, Midnight) when, after becoming a zombie snack, he dies and returns as one of the undead. Wandering aimlessly through the streets of London, during the throes of a cadaverous apocalypse, we learn about Colin (from his perspective) … who he was and, more pertinently, what he has become, through his encounters with objects, places and people. With a broad-daylight, zombie-versus-human street battle, an epic housebound siege and endless gore, Colin is a terror-ific zombiefest not to be missed!
The brainchild of British writer-director Marc Price (Midnight, the upcoming Thunderchild), Colin breathes new life into a classic genre, offering an original, unique perspective—a story told through the zombie's eyes. Made for just $75, mostly spent on tea and cookies for his "zombies," Price relied on friends and Facebook to cast his legion of undead extras.
Without funding, it was imperative to bring more enthusiasm to the film's set and apply extra innovation to problem solving (technical or otherwise). Taking 18 months to complete and shooting with a 10-year-old camcorder that repeatedly broke down, a determined Price borrowed what he needed and performed most crew roles himself while holding down a night-shift job as a taxi booker.
Colin is available as a single-disc standard DVD release and in a special, two-disc, standard DVD collector's set with expanded bonus material of an additional 68 minutes.
Colin is presented in full frame with an aspect ratio of 4 x 3 (1.33:1) and stereo sound. Special features include director's commentary. Additionally, expanded bonus material on the two-disc DVD edition includes "Making of Colin" documentary, deleted scenes, deleted scenes commentary, original trailer and Price's new short film, The End. For more information, visit www.colinmovie.com
About Walking Shadows:
Walking Shadows, based in Beverly Hills, Calif., is a motion picture and DVD producer and distributor. Under the direction of Alex Nohe – who has consulted on such hit films as the Oscar-winning Gods & Monsters, Oscar-nominated Waco: The Rules of Engagement, Trekkies (Paramount), Michael Moore's The Big One (Miramax), Mayor of the Sunset Strip (First Look) and Bubba Ho-Tep, among others – the company specializes in marketing quality independent, foreign, arthouse, genre and documentary films for theatrical, television, DVD and digital applications. Included in its library are such notable documentaries as I Have Never Forgotten You: The Life and Legacy of Simon Wiesenthal, I Shot JFK, Milarepa: Magician, Murderer, Saint and Burning Man: The Burning Sensation; the award-winning German film Beautiful Bitch; and the hit horror films Re-Cycle and Colin. Visit us at www.walkingshadows.com.
Colin
Walking Shadows
Genre: Horror/Zombie/Bloodbath
Not Rated
Format: DVD Only
Running Time: DVD (1 Disc) – 97 Minutes (Including Special Features)
2-DISC SPECIAL EDITION – 97 Minutes
(Plus 68 Minutes of Special Features)
SRP: DVD – $19.95
2-DISC SPECIAL EDITION – $29.95
Pre-Order Date: September 28, 2010
Street Date: October 19, 2010
Catalog #s: DVD – WS2015
2-DISC SPECIAL EDITION – WS2017
UPC Codes: DVD – #649241901860
2-DISC SPECIAL EDITION – #649241901853