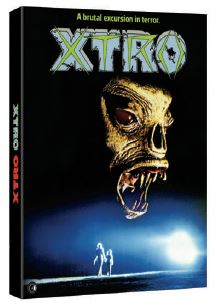 Xtro the infamous classic sci-fi horror film loved by astute fans around the world will be available for streaming in a brand new hi-def version.
Following its successful theatrical release in Japan and the Blu-ray release from Second Sight Films in the UK, which reached No. 1 on the Amazon UK horror chart, the new version lands on YouTube, Amazon and Google Play worldwide, excluding only the US, UK, Germany and Japan.
The film has been engaging and mystifying audiences since its original release in 1982 and has been lauded as one of the best B Movies ever made.
Father Sam Phillips is playing with his family in the back garden of his idyllic English home when a bright light appears and seemingly abducts him. Three years later, the light returns and dumps a half human half alien creature. After slaughtering a couple who inadvertently stumble on it in a country road, the creature impregnates a woman who gives birth – in one of cinemas most outrageous scenes – to a fully formed Sam. He heads to London, seeking out his family and developing a strange bond with his son. And then things start to get really weird…
The world's No. 1 Xtro fan, Dennis Xtro Atherton, who even changed his name in tribute said:
"I have been shouting into the abyss for years about Xtro and eventually feel that  people have started to come around to my way of thinking that Xtro is the most unpredictable movie ever made.  Second Sight did an amazing job with the Blu-ray release making my dream come true having my favourite film in glorious HD and it looks absolutely fantastic.  I am over the moon that this film is now available in many formats for more people to enjoy In the world of Xtro anything is possible…'
Please find full details attached for news stories and music tribute clip here for immediate use