A taught, sexy thriller about evil PACs, a manipulative media and killer clowns.  
TONY STINKMETAL'S
SlashR
A SHARP NEW POLITICAL SATIRE IN THE STYLE OF 1970s SLASHER MOVIES  
LIMITED ENGAGEMENT RUN! 
SEPTEMBER 5 – 15TH
AT THE GENE FRANKEL THEATRE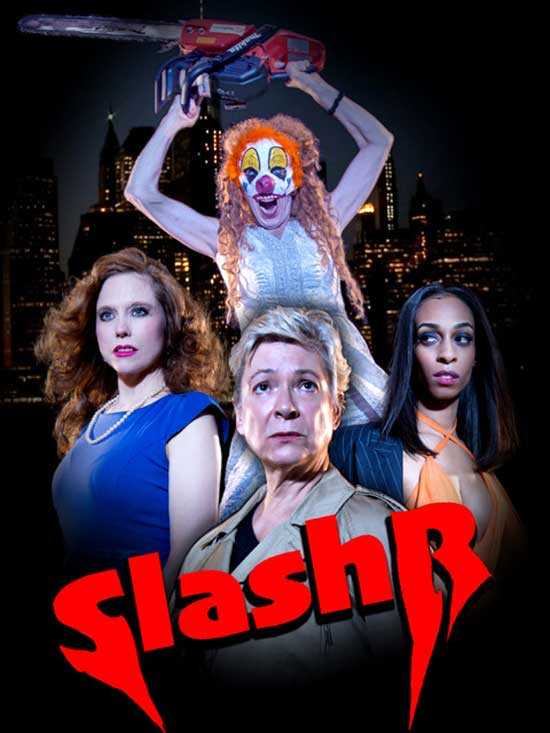 SET IN THE TRAUMATIZED NEW YORK OF NOVEMBER 2016, WHAT STARTS AS A MUNDANE MURDER INVESTIGATION EXPOSES A CONSPIRACY FOR WORLD DOMINATION SKEWERING THE ENTIRE TWO-PARTY SYSTEM, CELEBRITY WORSHIP AND THE TENDENCY FOR THE U.S. TO FIND THE SHALLOWEST AND EASIEST SOLUTIONS.
SlashR, a tongue in cheek satire looking at our fractured culture in the wake of the last national election (but done in the style of the 1970s slasher movies of Argento and Carpenter) will make its world premiere September 5 – 15th at the Gene Frankel Theatre. Written and directed by Tony Stinkmetal,
The cast features Nora Burns (David's Friend) as The Exterminator, David Ilku as Misha Stalinsky, Jay Knowles as Reeta Singh, Justin Law as Officer Lamb, Heather Litteeras Kimberly Renard, Colleen O'Neill as Detective Oakley, Royston Scottas Lieutenant "Ozzie" Ortiz and Greg Zuccolo as Eric Renard.  
SlashR is a taught and sexy thriller set in the traumatized New York of November 2016. What starts as a mundane murder investigation (of a young man prone to using dating apps) soon exposes a conspiracy for world domination skewering the entire two-party system, celebrity worship and the tendency for the US to find the shallowest and easiest solutions. 
In the course of the investigation, Detective Oakley comes up against evil PACs, a manipulative media, and serial killers. With the help of an outlaw hacker named Reeta and her mid-to-low-tech comrade The Exterminator, Oakley uncovers a connection between The Great Bed Bug Panic of 2010, the 2016 election, the worldwide spread of fascism and the scary clowns.
Having worked extensively with Charles Atlas and Tal Yarden, Tony Stinkmetal uses video installation as sets, effects and blood spurts.
"My brothers and I went to 42nd Street to see movies when we were growing up in the 1970s. We saw some fucked up shit, says Stinkmetal. "They were unlike any horror movies or thrillers I'd seen before. The good guy / bad guy split wasn't so clear. Even if the protagonist was pure of heart, they could still be dragged down to hell in the last seconds before the credits start rolling. They usually had some morality message under all the blood and nudity. Probably so the Vatican wouldn't have them banned. The images were so carnal and fleshy they hit me at a visceral level – like Rubens paintings dipped in blood or chocolate. That gut level thing hit without stopping in my brain first. I liked that. It made me think how powerful a mode of communication it could be. There is plenty to find fault with in these films. They are exploitive by nature. They objectify the bodies of the victims – who are about ninety percent female. In SlashR,instead of the (highly stylized) violence enforcing the standard hegemonic narrative, I'm flipping that dynamic. I'd like the viewer to experience SlashR on that gut level. I'm playing with subtle forms of subliminal manipulation like isochronic tones and ASMR under the original electronic soundtrack."
Writer, Director, New Yorker, Tony Stinkmetalstuck a solid landing in the drug addled, art-crazed Alphabet City of the early 80s with little more than a GED and a dream.  Being lucky enough to have worked with such ground breaking artist as Charles Atlas, Anohni (Antony & the Johnsons), Dancenoise, Tom Murrin, Salley May & Hapi Phace, Tony has been writing plays and showing underground films since 1992.
SlashR features video installation by Loren Jackson, sound scape by Alene Bulack and stage management by Pivirotto.
Tickets are $? And can be purchased online at: www.brownpapertickets.com/event/3596276
The running time is one tight hot hour.
Performances of SlashR are onSeptember 5, 6, 7, 8, 13, 14 and 15 at 8PM.
Encore performances will run January 2-12 2019.