Oscilloscope Laboratories announced today that it has acquired all North American rights to Jalmari Helander's RARE EXPORTS: A CHRISTMAS TALE, hot off the World Premiere at the Toronto International Film Festival.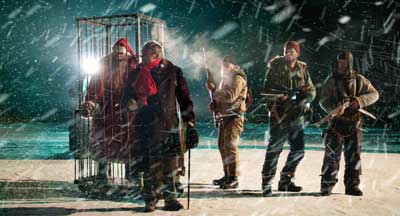 A re-imagining of the most classic of all childhood fantasies, the film is a darkly comic gem destined for cult status.
On the eve of Christmas in northern Finland, an archeological dig unearths Santa Claus. This particular Santa, however, isn't the one you want coming to town. When most of the town's children go missing, Pietari and his father, a local hunter named Rauno, come into possession of the mythological being. Rauno's clan of hunters attempt to cash in on the opportunity by selling Santa back to the misguided leader of the multinational corporation sponsoring the dig. What ensues is nothing short of a wildly humorous nightmare — a fantastically bizzare polemic on modern day morality.
Adam Yauch, O-scope head said, "This is really a unique film, the filmmaking exceptional, Jalmari's sense of timing, perfect. I'm tempted to say it's like the Coen brothers meets "The Grinch Who Stole Christmas," but RARE EXPORTS is so original in its feel and approach that I'll refrain from such comparisons and simply say: gas up your snowmobiles, load your shotguns and smoke 'em if you got 'em — 'cause we intend to uncage this sucker in theaters for the holidays."
O-Scope is looking at December release. The film has its U.S. premiere at Fantastic Fest in Austin this coming weekend.