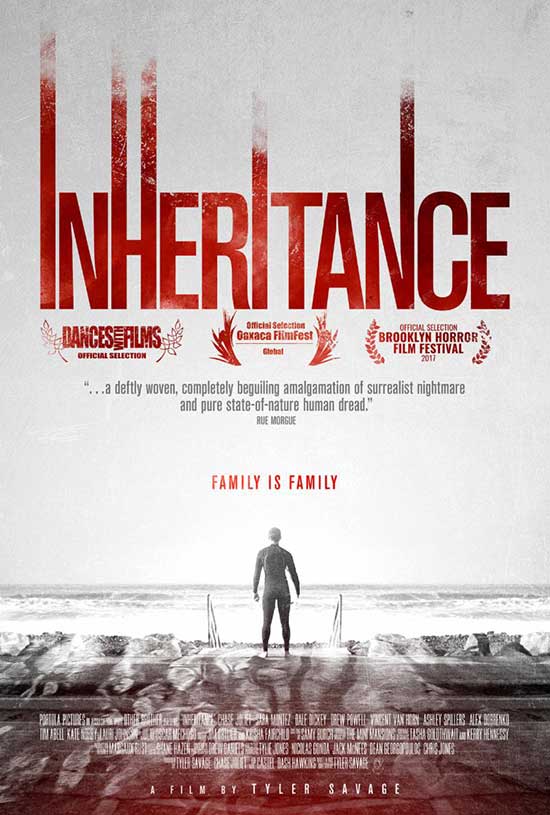 Portola Pictures has announced a Digital HD release of Tyler Savage's Inheritance.  Savage directed from his own script, putting a chilling twist on the universal feeling of being trapped by your family history, for better or worse.  Following the world premiere at Dances with Films, Inheritance has received high marks at festivals around the country.  Dread Central raved, "Savage uses the dark essences of an even more gloomy past to highlight this modern-day ghost story."
Tyler Savage makes his feature film debut alongside executive producer Nicholas Gonda (Tree of Life), cinematographer Drew Daniels (Krisha, It Comes At Night) and producers J.P. Castel (Krisha), Dash Hawkins (Party Crashers), and Chase Joliet (It Comes at Night), who also leads the cast.  Inheritance will be available to rent or own on iTunes and Amazon Instant Video in June.
Joliet is joined onscreen by Sara Montez ("Pitch"), Tim Abell (Sniper: Special Ops), Kate Norby (The Devil's Rejects), Dale Dickey (Hell or High Water, "True Blood"), Krisha Fairchild (Krisha) and Drew Powell ("Gotham"). The film was shot on location along the California coast and LA-based indie pop band Mini Mansions provided the score.
Inheritance Trailer from Tyler Savage on Vimeo.