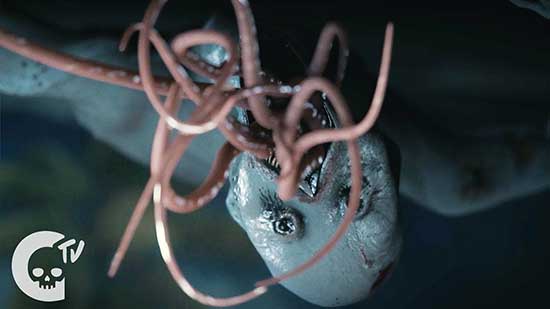 Crypt TV, the digital genre network that aims to be 'Marvel for Monsters,' is renewing its hit monster series The Look-See for a four episode 2nd season with weekly episodes returning starting July 24th. To coincide with season 2 of The Look-See Crypt has also surpassed 1 million subscribers on its YouTube page within 10 months.
In addition to the bullet points, there is a quote from CEO, Jack Davis as well as the recent news of Crypt having announced its second Series A Raise in March:
Crypt TV is renewing its hit monster series THE LOOK-SEE for a four episode 2nd season with weekly episodes returning starting July 24th. 26 year old Landon Stahmer, who directed all five episodes of season 1, is returning to helm all four episodes of season 2.
One of those YouTubers, James Janisse aka DeadMeatwill be joining the cast of season 2. Season 2 will be a period piece that peels back the mythology of The Look-See.
Recently Crypt TV's YouTube recently passed 1 million subscribers and 100,000,000 video views, only 10 months after it began posting to the platform in August 2017. Crypt launched primarily via Facebook but has recently seen a tremendous growth on YouTube, especially for viewership of The Look-See.
In March Crypt announced its second raise, a Series A for the amount of $6.2M. The funding puts Crypt TV over $10M in investment funding since opening their doors in April 2015. The Series A funding comprised of previous investors Blumhouse Productions, Lerer Hippeau, NBCUniversal & Advancit Capital.
"The Look-See is one of the very best monsters in Crypt TV's monster universe. The reason we are renewing Look-See for a 2nd season is simple: the incredible outpouring of fan excitement. It's amazing to see our community present their theories on the origins of this monster and we are so excited to welcome James to the cast. I'm eager to see how fans devour the clues and storyline of Look-See season 2 and I can promise them there will be a big announcement when we release the season finale."
About Crypt TV
Crypt TV is the digital genre network focusing on creating the next 'Marvel for Monsters.' Crypt's monster universe includes Webby award winning short The Birch, Sunny Family Cult who's merchandise can be found at Spencer's retail stores nationwide, and Giggles the Clown, who has her own channels with over 375,000 fans and whose Augmented Reality Filter was used by 1million+ fans and featured on The Today Show. Launched in 2015, Crypt TV was co-founded by CEO Jack Davis and filmmaker Eli Roth with Blumhouse Productions as an investor and key strategic partner. Crypt has over 7.5 million direct social followers. Crypt makes engaging original scary video content directly for the top Hollywood studios, including for Universal, Fox, Warner Brothers and long form productions with Verizon Media's go90 and more.