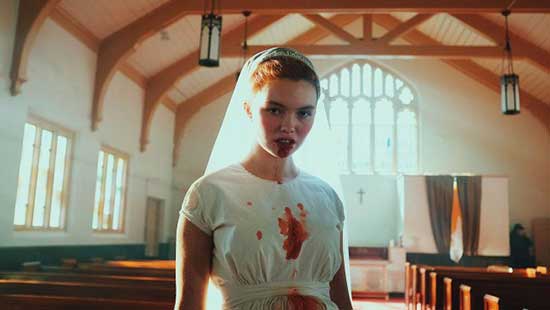 The film, starring Lauryn Canny in the lead, continues the twisted story of 2011 cult hit 'The Woman,' with McIntosh reprising her role.
Pollyanna McIntosh – best known as the cunning Jadis in The Walking Dead – has wrapped production on her debut feature, which is now set to make its market debut in Cannes.
Darlin', which MPI Media Group will introduce to buyers, continues the twisted vicious adventure of Lucky McKee's 2011 cult hit The Woman, which he novelized with famed horror writer Jack Ketchum and which starred McIntosh in the title role.
McIntosh reprises her role in Darlin', appearing alongside Lauryn Canny (1,000 Times Good Night, Amber), Bryan Batt (Mad Men, 12 Years a Slave), Nora-Jane Noone (The Magdalene Sisters, The Descent, Brooklyn) and Cooper Andrews (The Walking Dead, Shazam, Halt and Catch Fire), as well as fellow The Walking Dead alumni Sabrina Gennarino and Thomas Francis Murphy.
Found at a Catholic hospital filthy and ferocious, feral teenager Darlin' is whisked off to a care home run by The Bishop and his obedient nuns, where she's to be rehabilitated into a "good girl" as an example of the miraculous work of the church. But Darlin' holds a secret darker than the "sins" she is threatened with, and she is not traveling alone. The Woman who raised her, equally fierce and feral, is ever present in the shadows of Darlin's psyche and is determined to come for her no matter who tries to get in her way.
The film is a Hood River Entertainment production with Andrew van den Houten producing and McKee and Ketchum as executive producers. Nicola Goelzhauser of MPI will be handling worldwide sales at this year's Marche Du Film.
"I'm thrilled to present Darlin' at a time when audiences are showing their love for entertaining, visceral social issue horror and are hungry for female voices," said McIntosh. "With Darlin' I was blessed with a talented cast and crew, including our female leads, DP, location scout and editor, who all came to the project with such passion. It will be an honor to show their hard work, which made the movie the feast it is, and to introduce the enormous talent of young star Lauryn Canny to new audiences."
Greg Newman, EVP of MPI said: "We've always known Pollyanna to be a gifted actor, and now she proves to be equally potent behind the camera."
Added Goelzhauser, MPI's vp of international sales: "We are proud to bring this film to Cannes, especially since it represents a strong new female voice in a traditionally male-dominated genre."
Van den Houten said: "When I first directed Pollyanna as The Woman in the Ketchum-adapted Offspring, which I also produced, I knew we had found lightning in a bottle with her. So began the dream of a trilogy for the character to live through. I'm honored that The Woman herself, Pollyanna McIntosh, is the one who has written, directed and co-starred in this third chapter. Seeing this talented collaborator take the reins with so much confidence and vision has been a personal and professional joy."