In 2008 Dustin Ferguson broke onto the scene as an Editor on the rogue, lost 1992 sequel "Sleepaway Camp IV: The Survivor" for Films Around The World. It was a passion project, defining the path he would follow as he carved a name for himself as a filmmaker known for resurrecting beloved, classic genre franchises with modern remakes and sequels on tight budgets. The movie picked up directly after the events of 1989's "Sleepaway Camp 3: Teenage Wasteland," as we follow "Allison," a "survivor" plagued with amnesia after a recent camp massacre. She recalls some events from the previous installments, posing the question, "Who really is Angela Baker?"
It was only two years later that Ferguson Directed "The Legacy of Boggy Creek," a direct follow-up to the 1972 drive-in classic "The Legend of Boggy Creek" from filmmaker Charles B. Pierce. Picking up where the original film left off, Ferguson's movie follows the encounters that supposedly took place in the surrounding area between 1972-2011 involving local mid-Westerners and the legendary creature, known as the "Skunkape."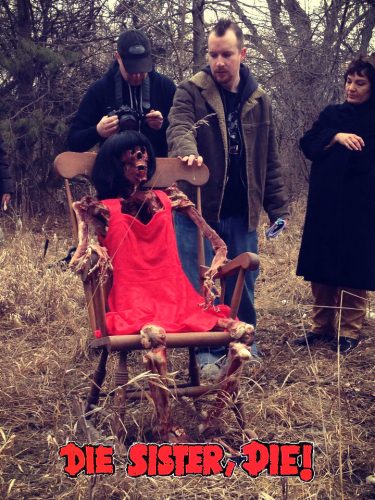 In 2013 he remade the 1978 made-for-tv pot-boiler classic "Die Sister, Die!" from Director Randall Hood. The new version featured 80's Scream Queen Brinke Stevens ("Slumber Party Massacre," "The Haunting Fear") in the role of Amanda Price, a rich woman in a secluded house terrorized by her brother and devious caretaker. This film marked the first time Dustin hired non-locals to act in a film, and it has since gone on to gain distribution through several companies, including Retrosploitation, Troma and Screamtime Films.
One year later Ferguson began a working relationship with Todd Jason Cook, O.G. shoot-on-video filmmaker and owner of Screamtime Films, and he went on to direct several remakes and sequels of Cook's films for his company, including 2014's "Demon Dolls," 2015's "Night of The Clown," and 2017's "The Dummy 2."
In 2015 he was hired by New Wave Pictures to direct "Silent Night, Bloody Night 2: Revival," a sequel to the 1972 film by Theodore Gershuny. Ferguson's follow-up starred Jennifer Runyon Corman ("Ghostbusters," "A Very Brady Sequel") who happens to be Roger Corman's real life niece and featured a killer in a Santa costume, taking a note from the infamous "Silent Night, Deadly Night" series from the 80's.
That same year, due to his established connection to the series, Dustin was asked to direct an "alternate ending" for the 1988 camp classic "Sleepaway Camp II: Unhappy Campers" which had been included on the official blu-ray release from Shout! Factory. The segment, called, "Sleepaway Camp II: Whatever Happened To Molly?" shows exactly that – what audiences DIDN'T see after the screen faded to black at the end of the '88 film. This project was especially unique because the piece had to be produced to match the scenes that were shot nearly 30 years prior by a different production company, Double Helix Films. Certainly no easy task, but a move that would push Ferguson's career even further ahead.
It was only a few months later in 2016 when prolific B-movie Producer David Sterling hired Dustin to direct sequels to his popular direct-to-video Slasher series "Camp Blood." Both "Camp Blood 4" and "Camp Blood 5" were shot back-to-back on a meager budget, starring local model Schuylar Craig. Both films were a step outside the boundries set by previous installments, creating a new, fresh storyline and launching the acting career of lead Craig. Both films were released by online Sterling Entertainment and later world-wide from Alpha Video.
Ferguson would go on to produce two "Amityville" entries for Wild Eye Releasing –2016's "The Amityville Legacy" and a sequel, 2017's "Amityville: Evil Never Dies," the latter starring Mark Patton ("A Nightmare On Elm Street 2") and Helene Udy from 1981's "My Bloody Valentine." It was Wild Eye's acquisitions of these films that would open new doors for Dustin to purchase the sequel rights to Albert Pyun's "Mean Guns," and "Cyborg" and the 90s cyber-punk/sci-fi/action series "Nemesis."
In 2017 "Nemesis 5: The New Model" went into production in Lincoln, Nebraska. The film starred Sue Price ("Nemesis 2, 3 and 4") again as "Alex Sinclair" and Schuylar Craig (from previous films "Camp Blood 4 and 5") as "The New Model." The picture also featured roles played by genre vets Dawna Lee Heising ("Samurai Cop 2," "RoboWoman") and Mel Novak ("An Eye For An Eye," "Game of Death.") The movie wrapped production in late 2017 and is currently being shopped to distributors.
Most recently, Ferguson has been granted the rights to remake 1989's notorious Umberto Lenzi ("Cannibal Ferox," "Nightmare City") film "Ghosthouse." The original film was re-branded overseas as "La Casa 3," a move made by distributors to connect it to the "Evil Dead" series by Sam Raimi. "La Casa 4" and "La Casa 5" would follow, neither of which was connected to "Ghosthouse" or "Evil Dead."The remake is set to star Paul "Pinhead" Taylor from "Hellraiser: Judgment" in the role of the Grim Reaper.
Aside from these many "franchise" sequels and remakes, Dustin has also launched several of his own film series, including "Meathook Massacre 1-3," "Silly Scaries 1 and 2," "Terror at Black Tree Forest" and its two sequels, "Tales For The Campfire 1 and 2," a documentary series called "Penny Pinchers" and the quasi-official sequel to 1988's "Cheerleader Camp" titled "Cheerleader Camp: To The Death" for New Wave Films.
It's obvious from the sheer number of films produced that Dustin Ferguson has a strong passion for the horror films of yesteryear. (He's on film number 56 at the time of this article.) It takes heart and a lot of ambition to follow-through and create a new franchise installment that is embraced by fans, and Ferguson certainly has established his ability to do just that. Watch his page of "Facebook" for updates on his future remakes, sequels and original work, too!