ABOUT SCARED TO DEATH: THE THRILL OF HORROR FILM
Opens September 30, 2017
Organized by the Museum of Pop Culture, Scared to Death: The Thrill of Horror Film (#ScaredtoDeath) takes an in-depth look at more than a century of horror cinema. From blood-thirsty vampires to unrelenting zombies and fiendish slashers, this immersive experience presents the broad range of iconic horror villains and the stories over the generations that have brought them to life.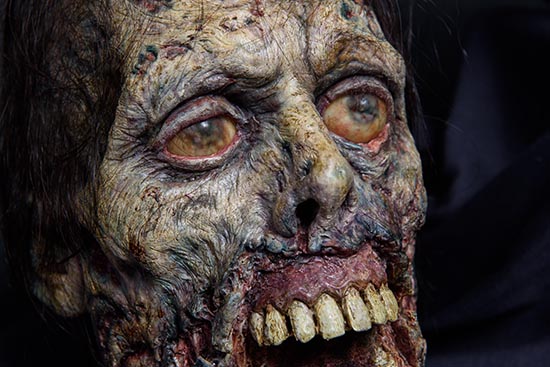 Taking inspiration from the genre, the 3,000 square foot gallery space is designed to evoke the unsettling sensations associated with cinematic terror.
Themed sections include an unholy vampire's chapel with walls dripping blood; a slasher's den with life-sized corpse figures suspended from the dungeon ceiling; and a containment area with zombie heads from The Walking Dead submerged in aquarium tanks. Additional props and costumes from film and television include more than 50 original objects from A Nightmare on Elm Street, Friday the 13th, Buffy the Vampire Slayer, Blade, Bride of Frankenstein, The Thing, Dawn of the Dead, Hostel, Jeepers Creepers, Pet Sematary, and more. Multi-media experiences include photo ops, digital artifact displays, exhibit films and oral history interviews with guest curators Roxanne Benjamin, Karyn Kusama, Eli Roth, John Landis, and Roger Corman.