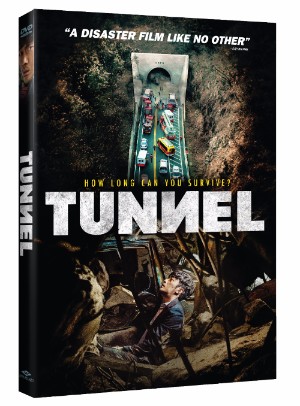 How Long Can You Survive?
TUNNEL
A Film by Kim Seong-hun
Starring Ha Jung-woo, Doona Bae & Oh Dal-su
Debuting on Digital April 4 & on DVD May 2
South Korean superstar Ha Jung-woo (The Handmaiden) plays a car salesman fighting for survival inside a collapsed tunnel while rescue workers race against time to free him in the tense, taunt thriller TUNNEL, from internationally-acclaimed director Kim Seong-hun (A Hard Day). With draining cell phone battery power and a rescue effort that might end before they locate him, days pass by without success, and people start to lose hope as the rescue operation becomes an ordeal when incompetence, the media and government interference slow down the process. Tom Keogh of The Seattle Times notes that there's "a lot to juggle, and Kim handles it effectively while delivering, bottom line, a harrowing spectacle that makes one forget to breathe." Also starring Doona Bae (Netflix's "Sense8") and Oh Dal-su (Oldboy), TUNNEL debuts on digital April 4 and on DVD May 2 from Well Go USA Entertainment.
Synopsis:
When a tunnel collapses on Jung-soo (Ha Jung-woo), the ensuing rescue operation becomes the subject of widespread media coverage and frenzy. But days go by, nerves stretch thin, and Jung-soo must struggle for his life in the suffocating darkness alone.
Country of Origin: South Korea
TUNNEL has a runtime of approximately 127 minutes and is not rated. Additional materials (including box art) are available to download at ftp.mprm.com/WellGoUSA.
Follow @WellGoUSA on Facebook and Twitter and be sure to use # TUNNEL when socializing your coverage.  For more information, please visit www.wellgousa.com.