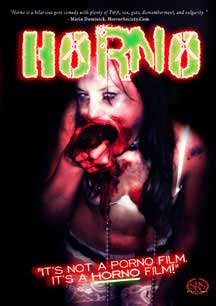 SRS Cinema To Release "Horno" on DVD – Oct 19
Is it horror? Is it p*rn? No, it's HORNO!
SRS Cinema and MVD Visual will release Horno for North American DVD distribution on October 19.
Ron is a p*rn director with a little more vision than talent, not that he has much of either. He aspires to greatness, but never quite achieves it – that is until he comes up with the idea he's sure will launch him to infamy: "Children of the Cornhole", a horror/p*rno hybrid!
Yes, it's a "horno" film, one whose plot is brilliant in its p*rnographic simplicity: a zombie outbreak is being spread by legions of the undead bent on sodomizing anybody they can. Once Ron convinces his producer that it's a profitable idea, he's on his way to Hollywood, or at least he thinks so. He gathers together his rag-tag troupe of cast and crew in a hotel room and starts filming. But things soon go horribly wrong when life begins to imitate "art" in the worst possible way.
Link to Purchase:
www.seeofsound.com/p.php?s=MVD5061D
Trailer:
www.break.com/usercontent/2008/11/HORNO-Horror-Meets-P*rn-603261.html