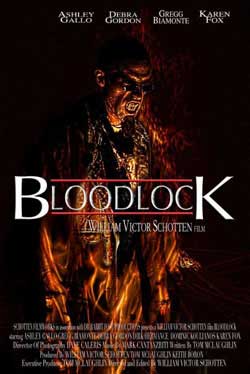 SYNOPSIS:
After suffering a nervous breakdown as a result of the death of her mother, Christine and her unfaithful husband Barry (as well as her slutty sister Lisa) move into a new house. They soon discover a huge metal door with a strange lock on it in the basement. After several unsuccessful attempts to open it Christine becomes obsessed with what could possibly be locked up behind the door and seeks help from a friendly locksmith (who tells her to leave it alone as his father was the person who locked it originally). Unfortunately the weird old couple next door ends up opening it and freeing the thing that is inside, and it promptly goes on a killing spree. Will Christine be able to stop the evil force before it kills everyone?
REVIEW: 
-"Bloodlock" is pretty much like a bottle rocket as it starts out strong but ends up fizzling out pretty quick. What I mean by this is that it starts out very promising and interesting but by the halfway point it pretty much hits its climax but for some unknown reason it continues to plod along and things get more and more ridiculous. I think the filmmakers should have just done this as a short film and ended it at the point when the thing behind the door gets out and starts butchering everyone. In my opinion it all goes downhill quick after we find out what is locked up in the room (which is unbelievably lame), and the rest of the movie is pretty bad.
It almost seems like two different people (who were not on the same page) wrote this as it is like there are two movies going on here. It starts out being mysterious and intriguing but toward the end if becomes a bad episode of "Buffy the Vampire Slayer." It's disappointing because I was really into it at first but I soon found myself becoming eager for it to just be over with.
I think that the biggest problem is that the "evil" lurking behind the door is really not anything spectacular. I am not going to give anything away here but let's just say that it is as about as intimidating as a villain from an episode of "Scooby-Doo." It isn't scary, it looks horrible and silly, and for all the build up I was really expecting a lot more. The best way I can sum up my feelings on it is that it is kind of like when someone gives you a birthday gift and you are dying to know what it is but when you open it up it is something that you really didn't want. Believe me when I say what pops out of the room is incredibly cheesy.
The biggest majority of the acting is pretty bad too (with the exception of Ashley Gallo, who plays Christine). The actors playing Barry and Lisa at least put some effort into their performances so I can't be too hard on them, but at the same time neither one of them will be winning an Oscar or Golden Globe anytime in the near future. They aren't the worst actors in the film as that honor belongs to the "thespians" that play the old man and woman who live next door. The man basically just reads his lines and the only emotion he is capable of displaying can only be described as confused anger. He is without a doubt one of the worst actors I have seen in a while (and I have seen many) and he just sucks the life out of any scene that he is in. I can't help but wonder why he gets so much screen time toward the end and have to assume he is related to the director.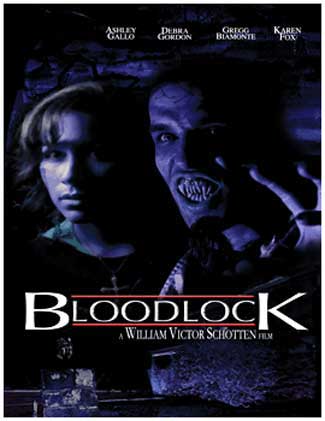 Not everything is bad about the movie, however. I thought that the idea behind it was pretty decent and I commend writer Tom McLaughlin for at least trying to do something some what original. I like the idea about something evil and dangerous being locked away and I think that if it had been handled better "Bloodlock" would have been a great film. I also thought that the gore was well done considering the low budget that the filmmakers had to work with. As I mentioned earlier I thought that Ashley Gallo was the saving grace of the movie and she should be proud of her performance. She can act, she is hot (what is Barry thinking? She's ten times better looking than her sister!), and I think that she pretty much makes the movie. Hopefully we'll be seeing more of her in future (and better) films.
I think that the most frustrating thing about "Bloodlock" is the fact that it very well could have been a great flick but a combination of things caused it to fall apart toward the middle after a very good start. In short the idea was good but the execution left a lot to be desired. While I'll admit that it isn't the worst film I've seen this year it will still be quite a while before I watch it a second time. Check it out at your own risk but I would suggest you stop watching it as soon as the thing behind the door rears its ugly head.
Bloodlock (2008)