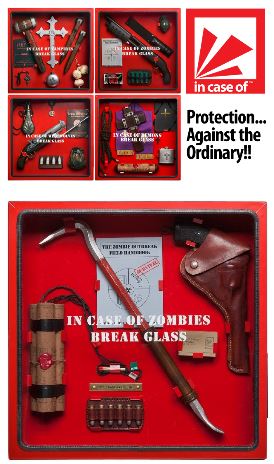 All horror fans, and Art & Design Enthusiasts unite!
Have Fun with your Fears and help us reach the world!
Our Indiegogo campaign IS LIVE!
Help us protect you against the ordinary!

IN CASE OF, makers of handmade emergency cabinets modified with the "necessary" equipment and defence objects against supernatural, "fantastic", humorous disasters, launched its "Protection Against the Ordinary" Indiegogo campaign!
IN CASE OF campaign is really important because every time that our Cabinets have been displayed, either physically or online, our return has been profound. But being a small company, we cannot handle increased demand. That's where you come in! Join our journey and support our project here!
13 thrilling perk categories are there for you to grab: Limited Edition Zombie Cabinets exclusively designed and offered for The Indiegogo campaign, bundles, Cabinet labelled with backer's name and low serial number, DIY cabinets (oh yes!), Vampire Stakes, Scrolls, T-shirts and much more!
Support IN CASE OF Indiegogo campaign. Share the madness, spread the word! #ProtectionAgainstTheOrdinary #HaveFunWithYourFears #becauseyouneverknow
For more information on the project and to pledge, visit igg.me/at/in-case-of